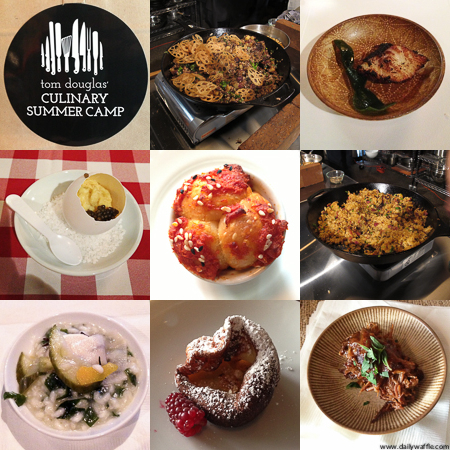 What do you eat after Tom Douglas' Culinary Camp, a five-day eating extravaganza that started with foie gras and caviar and ended with Chinese barbecued pork, chicken and sausage? On Friday, my total consumption was: coffee, half a peach, a graham cracker with peanut butter, a package of Top Ramen, a small kale salad and a corn tortilla quesadilla. It was a far cry from the previous day, which started with an array of Bavarian meats, soft pretzels and beer.
Over five days, Tom and his team led 40+ campers from one end of the spectrum to the other – from foie and caviar to mostly vegetarian with geographic stops in Austria and Germany, Argentina, Lebanon, Korea, Vietnam and back home for good ol' American BBQ. Between the work of more than 20 chefs and local purveyors and the beverage pairings that went along with their dishes, a purported 500 tastes (including all those beverage pairings) were put in front of us over the course of the week, bringing new meaning to the term "intestinal fortitude."
Really, this is glamping in the best sense. It was an opportunity to not only eat great food for five days straight, but also get up close with a number of great chefs. Many of us were not just foodies or eaters (thanks, Dan Pashman), but also home cooks. Each day brought a new set of recipes and signed cookbooks (score!) that will add new ingredients and techniques to our repertoires and help us recreate their dishes at home.
With TanakaSan just opened at Assembly Hall, Japanese-inspired food (or perhaps more accurately American Asian-inspired food) played a big role in the first days of camp. Sunday's agenda kicked off with a fried rice battle between Tom and Eric Tanaka, the Tanaka in TanakaSan. Tom's version used red rice and Chinese sausage, garnished with lotus root, while ET brought it with his family recipe, a Japanese-American traditional take with sticky white rice, bacon and ketchup (but no shoyu)! While the crowd was pretty evenly split on the two dishes, I give the edge to ET. When it comes to homey foods like fried rice, you can fancify it, but somehow moms and grandmas know best.
With Sunday's theme being "Fermented and Cultured," ET demoed a quick dashi soup base for matzo ball miso soup and shared some intel on miso pastes and soy sauce gleaned from the tasting the team went through in recipe development for TanakaSan. We tasted hard boiled eggs that had been steeped in regular soy sauce, Bragg's Aminos, tamari and white soy. Although Kikkoman is our house shoyu, the white soy was my favorite. From what ET was saying, it actually has more wheat than soybeans, resulting in a delicate, much less salty sauce.  Worth picking up the next time you stop in at your Asian market.
Monday's breakfast, our "light" day, kicked off with another Japanese-inspired dish – ochazuke — rice with green tea, slices of a nori omelette and tofu seasoned with one of Tom's Rubs with Love.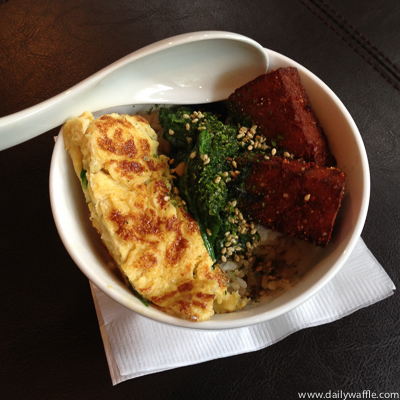 It wasn't all sitting and eating, no matter what my Moves app says. Over the course of the week, our mettle and our palates were tested with a daily challenge and hands-on activities. Two of us were even brave enough to butcher chickens from start to finish. More to come from Culinary Camp.