Drinks named after celebrities seem to belong to a bygone era. One of the thrills of going out to dinner with my parents when I was little was ordering a Shirley Temple. With its delicate pink hue and a maraschino cherry floating on top, a Shirley Temple made you feel like one of the grownups. I think I even ordered one at dinner before junior prom. Today, if I ordered a Roy Rogers or an Arnold Palmer, I expect most people would know what I was after without explanation. But some where along the line, drinks named after celebrities fell out of favor. Can you imagine ordering a George Clooney, a Justin Bieber, or a Tiger Woods?
The idea for this raspberry spritzer started as a spin on a Shirley Temple, which I've always thought of as 7-up and grenadine, but Wikipedia claims the soda is actually ginger ale. Made with a fresh raspberry syrup brightened by lemon, this spritzer is sweet but not cloying. And yes, it takes 3 half-pints of berries, but it'll put any Italian soda made with bottled syrup to shame.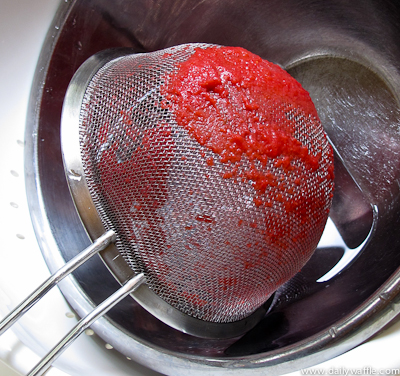 There are really two steps here, the first is making the raspberry syrup. It's pretty simple, nothing more than mashing the berries with a little water, then cook, strain, add sugar and cook again. It's the mashing of those beautiful berries that feels decadent, knowing that you'll be tossing out the pulp and seeds. It's a luxury to reserve for the summer, when you can get the berries in relative bulk at the farmers market.
What results is a pitcher full of dark red syrup perfect for a party, and you can make a non-alcoholic spritzer in the Shirley Temple tradition, or you can turn it into a cocktail with a couple of ounces of vodka.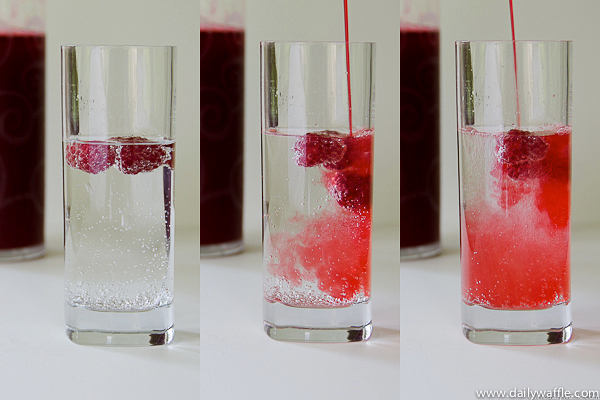 And here's your second step. The mixing of the syrup with the sparkling water is just gorgeous. If everything is chilled and it's not a particularly hot day, you may not need ice cubes. If you're going the cocktail route, ice is a must.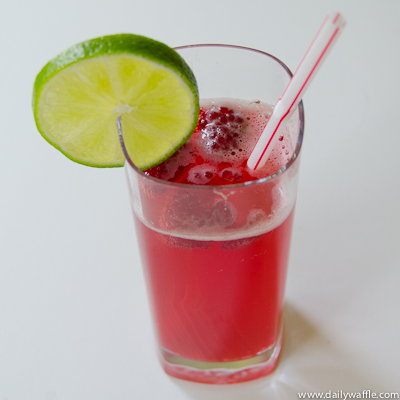 So, any suggestions for what a George Clooney or Justin Bieber or Tiger Woods would be?
Ingredients
2 oz. raspberry syrup (recipe below)

8 oz. sparkling water

2-3 raspberries and a lime slice to garnish

Ice cubes, as needed
Instructions
1
In a tall glass combine sparkling water, syrup and raspberries. Add ice as needed.
2
To make this for the grown-ups, reduce water to 6 oz. and add 2 oz. of vodka.
5
Makes ~30 oz. of syrup, enough for 15 drinks
6
3 full half-pints of fresh raspberries, rinsed
10
In a medium sauce pan, combine the raspberries and water, mashing the berries with a potato masher or the back of a spoon until broken down. Bring the mixture to a boil over medium heat, skimming off any foam that rises to the surface. Reduce heat to low and cook for 5-10 minutes.
11
Pass the berries through a fine sieve to get all their juices. Discard the seeds and pulp. Add the juice back to the sauce pan and stir in sugar. Bring to a boil over medium heat, then reduce heat and cook for about 10 minutes until the mixture is thickened and syrupy. Stir in lemon juice.