On Saturday, I texted my mom: "We're at Obon in Seattle!"
It's kind of crazy that we've lived in Seattle for almost 5 years and never been to the Obon festival here. Or as Seattle calls it, Bon Odori. It's a Buddhist festival of remembrance, but for me, it's always been more of a cultural event than a religious one. As a kid, Obon was synonymous with summer and it was about teri burgers and wontons and Okinawa dango and corn on the cob and snow cones and winning goldfish at carnival games and watching the bon dancing. And pretty much it still is. Even in a different city. You just don't realize until you're an adult how much those simple things connect you to so many other people.

The food at Seattle's Bon Odori is different that the Obon I went to as a kid, though all of it is familiar. Along the street, booths feature somen, nikudon and snow cones. In the back, teriyaki bento boxes, teri burgers and yaki mochi and nigiri. Both the mochi and nigiri are grilled and basted in teriyaki sauce. It's an easy and tasty little snack you can add to your next barbecue.
Chicken teriyaki being grilled for bento boxes. I don't envy those guys, it had to be hot standing over that grill.
Yaki Nigiri on the grill.
Alright, let's eat!
Another pretty blue kimono with a yellow obi.
Now, blue with red.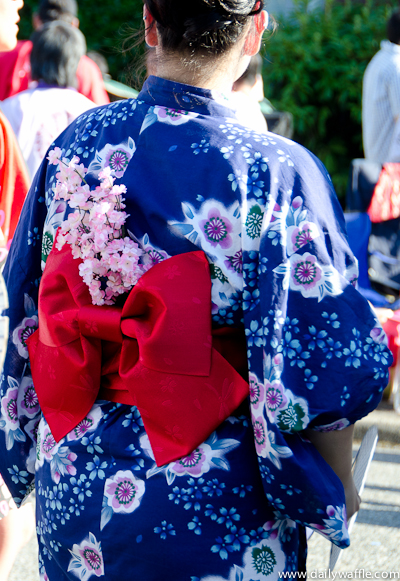 Mark your calendar for next July. In addition to the dancing and food, Seattle's Bon Odori also features taiko (drum) and judo demonstrations. It is a community event and is considered part of Seattle's Seafair festivities. There's plenty of street parking within a few blocks of the temple.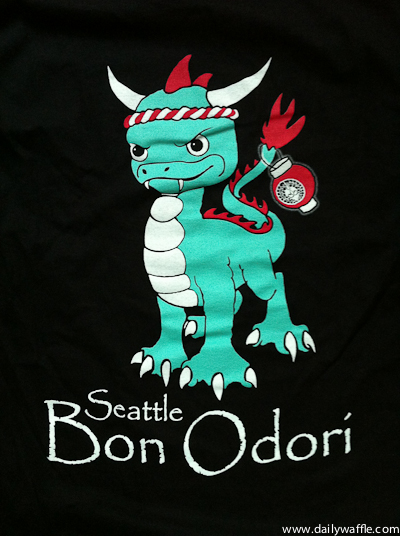 Seattle's 80th Bon Odori T-shirt.
Seattle Buddhist Temple
1427 S. Main
Seattle, WA