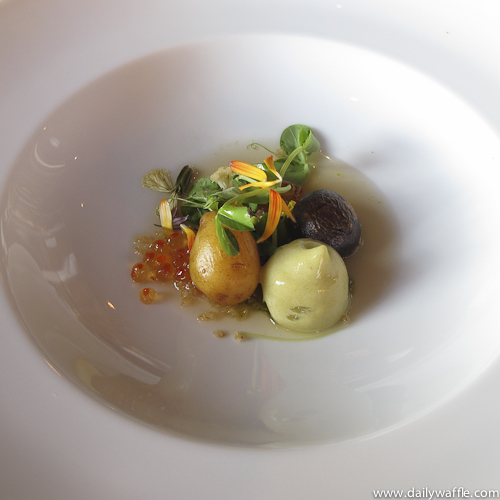 It's been four years since we left the Bay Area, so the list of restaurants we need to try has gotten ridiculously long. We don't get down there as much as we should (our friends can vouch for that!). So when an opportunity to try Dominique Crenn's "poetic culinaria" came up at Matt's in the Market, it was hard to pass up. Except we did, because I thought, well, we can't do these dinners two weeks in a row. It'll be too much. But then, after a wonderful meal with Andy Ricker, we went for it, got on the waiting list and hoped for the best.
Not only was it a chance to try Chef Crenn's modernist cuisine outside her home turf in the Bay Area, but it would be interesting to see how the two chefs — Chef Crenn and Matt's Chef Chester Gerl — would develop a menu of complements. In six courses, it was inventive, it was sometimes challenging, it was beautiful.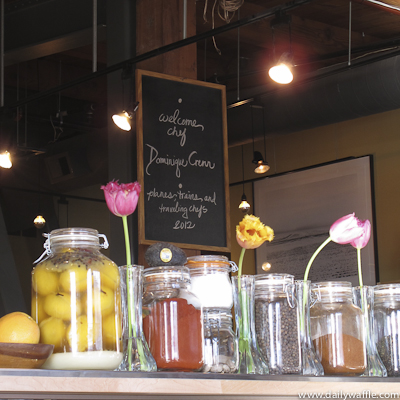 The ocean again led the way, bearing mackerel, geoduck, oysters and scallops; the land delivered pork, eggs, ramps, cauliflower, peas and hibiscus.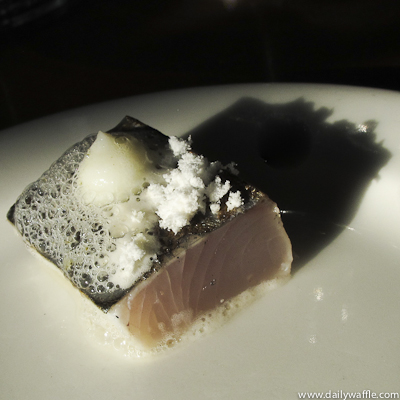 A dramatic look at an appetizer: smoked mackerel with "sea foam."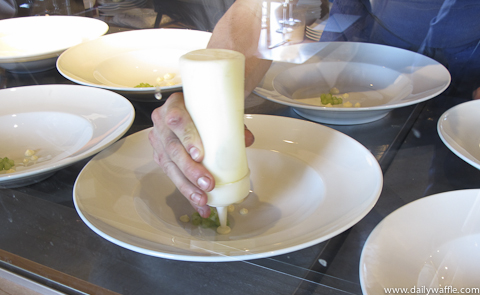 Part of what made this meal so interesting was the ability to see each dish being put together. This isn't just plating, it's creation. The "Oyster inspiration of the moment."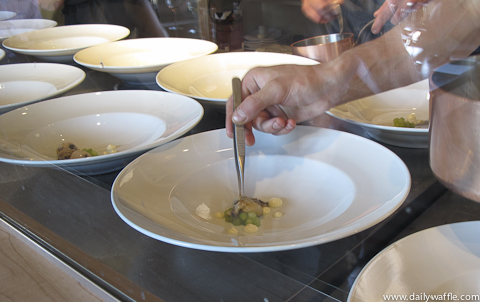 The oyster goes down.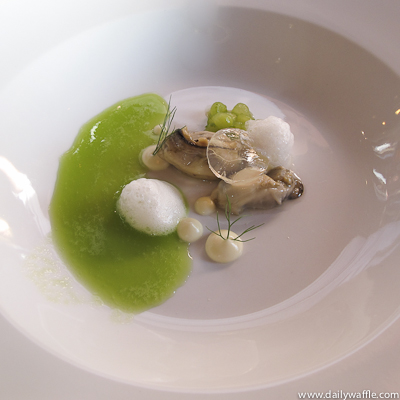 The finished plate.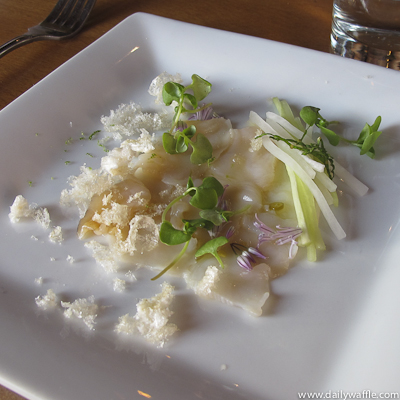 Chef Gerl's geoduck was a Vietnamese-flavored preparation with chiles and fish sauce, and shards of chicharron, similar, I'm betting, to the ceviche preparation from the Pok Pok dinner the week before.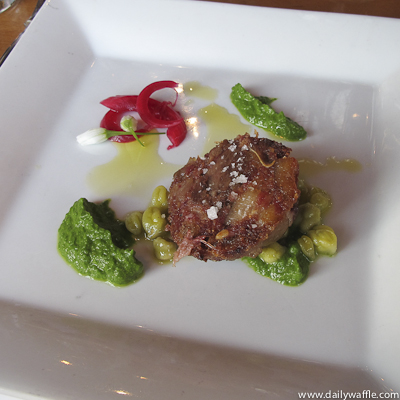 A fatty, porky little fried disk of, as Seth Caswell called it, "fried pork face" with green garbanzos and ramp pistou. Mmmm. Seriously, the phrase "head cheese" needs to be banned from the English language.
Details. I told you it was beautiful.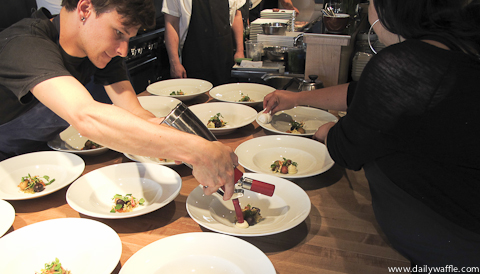 "Wild Garden," which heads this post, was one the top dishes of the night. If I just say, smoked potatoes with cauliflower, it's wildly oversimplifying and just telling you what was in it. The burnt onion/bonito consomme was gorgeous. Here, the final touches before serving.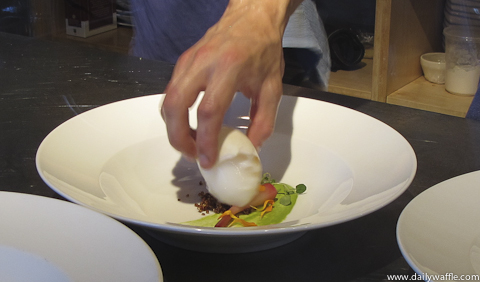 "The Farm" – a sous vide duck egg, with ramps and quinoa. Another one of my faves for the night.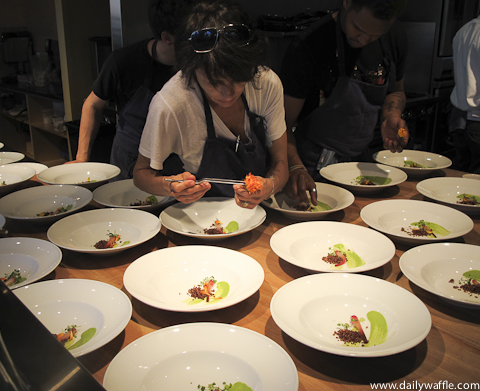 Chef Crenn at work. I love that she's still wearing her sunglasses!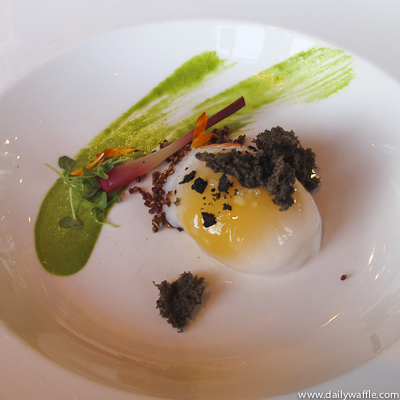 The Farm, finished plate.
As the sun goes down, the restaurant lights come up, so regretfully, I don't have shots of the scallop and fish with peas and the rose/hibiscus/rooibos tea sorbet with chocolate branches that rounded out the meal.
The net-net, it was an incredible experience, completely different to the dinner the week before.While people so often complain about the portions in a meal like this, we were left anything but hungry. And although we should have been able to cross Atelier Crenn off our SF list, I'm intrigued to see what Chef Crenn can do with a vegetarian-only menu and frankly, the dessert tasting menu looks amazing as well.
Matt's in the Market's Planes, Trains and Traveling Chef series has at least one more dinner to go – June 11 with Naomi Pomeroy of Beast in Portland.
P.S. If it seems there's less cooking on the Waffle lately, it's because the weather in Seattle has been fantastic. There's a direct correlation between the amount of sunshine and the volume of my posts. The truth is, I've just been making regular home food or dishes I've already written about. If you're interested, a lot of it goes up on Instagram (username: dailywaffle). And, between last week's Pok Pok dinner and this week's with Dominique Crenn, I should be fasting.