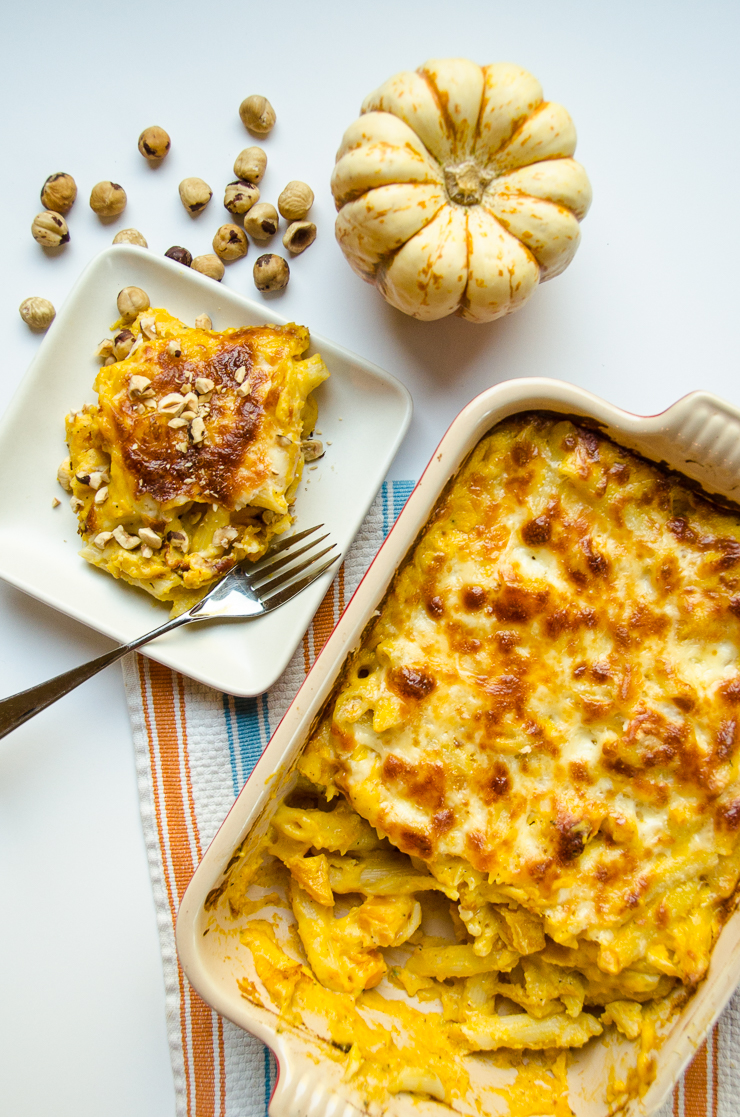 I love a good mac and cheese, frozen, from the box, on the stove top version, baked in the oven, any which way, I'll take it. But sometimes, it's too much of a good thing. So people have been resorting to sneaking in vegetables to try and lighten up their mac and cheese. Orange cauliflower just can't replace a pile of freshly grated cheddar. So let's stop pretending, shall we? Let's make a baked pasta that doesn't pretend it's mac and cheese, but hits all those comfort food buttons. Let's make a butternut squash pasta bake.
What, didn't you just say, vegetables can't replace a pile of grated cheddar? Yeah, I did. This pasta bake has more in common with lasagne the Italian way, which isn't a cheese bomb and turns to bechamel for its richness.
The key is to build the flavor into our butternut squash. We're seasoning it well and roasting it with garlic cloves before puréeing the lot and and incorporating it into the bechamel. Chunks of butternut squash add some visual interest. Cheese comes into play only as a topping to give it a salty kick and crunchy brown crust. I recommend getting Ferndale Farmstead Cheese's Scamorza if you can get it, otherwise a whole milk dry mozzarella will do.  Garnish with chopped hazelnuts for texture and fall flare. Look, I won't say this butternut squash pasta bake is healthy, but it's getting there.
Ingredients
2 T. olive oil

5 cups butternut squash, cut into 1 inch cubes, divided

1/2 t. red pepper flakes

1/2 t. dried thyme

3 garlic cloves

kosher salt

10 oz. penne pasta

4 T. unsalted butter

2 c. 2% milk

3 T. all-purpose flour

1/4 t. freshly grated nutmeg

1/2 c. grated Ferndale Farmstead scamorza cheese (whole milk mozzarella also works)

1/2 c. grated Pecorino Romano cheese

1/3 c. hazelnuts, chopped roughly
Instructions
2
In a large bowl, toss the butternut squash with the olive oil and two pinches of salt. Put ~2 c. of the squash on one side of a baking sheet and set aside. Add the red pepper flakes, thyme and garlic cloves to the remaining squash. Add the squash on the other half of the baking sheet. Bake for 10-15 minutes until tender.
3
While the squash is roasting, bring a large pot of water to a boil. Cook pasta in well salted water according to package directions, until al dente. Save 1/2 c. pasta water. Drain, and place the pasta in a 10.5 x 7 baking dish. Add the butternut cubes seasoned only with salt.
4
In a food processor, puree the the squash seasoned with the pepper flakes and thyme until smooth. Add water a tablespoon at a time, if needed, to get the puree moving.
5
To make the bechamel, melt the butter over low heat in a medium saucepan. Whisk in the flour and cook for 1-2 minutes to get rid of the floury taste. Add the milk and turn heat up to medium. Add the grated nutmeg. Bring to a boil, whisking constantly, and let cook for 1 minute. Stir in the butternut puree. The mixture may be a bit thick. Add pasta water a tablespoon at a time until the butternut bechamel is like thick pancake batter. It will continue to thicken when it bakes.
6
Stir the butternut bechamel into the pasta, ensuring the pasta is evenly coated. Top with scamorza and Pecorino Romano.
7
Bake for 25 minutes until the cheese is browned and bubbly. Cut into six squares and garnish with hazelnuts.