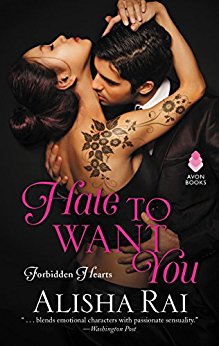 In Hate to Want You, Olivia Kane and Nicholas Chandler's families have been intertwined for generations. Their grandfathers started a grocery store together and then a series of tragedies put the store solely in the hands of Chandlers. More importantly, it drove a wedge between sweethearts Olivia and Nicholas. But the spark, make that inferno, has never gone out for this modern day Romeo and Juliet. They've been meeting up in secret once a year for a single night, neither one able to let go.
Hate to Want You will knock you out with emotional complexity, sexiness, and angst. But I have to tip you off on another element that makes this book a worthwhile read. It's a more personal thing for me. Olivia Kane is Japanese-American. She's not the generic Asian friend. Olivia's not a martial artist or doctor/ lawyer/ nurse/ scientist. She's a tattoo artist! Olivia is a sexual being, but she's not fetishized. She's not a shrinking violet giggling behind her hand.
I feel like we're at a point in time, where that shouldn't be a big deal. It should just be the norm.  But it's not. It's a big deal. It feels especially relevant now, as diversity in TV and movies is a huge topic, and the controversy around white-washing continues.
Olivia's background pulled me in, but Alisha Rai's respect for the history sold me. She accurately refers to the internment of Japanese-Americans as imprisonment. Olivia's family turned over their property to the Chandlers for safe keeping, which happened in real life. These details matter. The family dynamics and how culture has and hasn't been passed down also ring true. The emotional distance and stoic disappointment will be familiar to many readers.
There were a few quibbly things that seemed slightly off to me, though they're hardly dealbreakers. Kane (pronounced Kah-neh) is typically a first name, meaning money in Japanese. In my experience, Aunt Maile would more typically be called "Auntie." Finally, there was one line that made me raise an eyebrow like, really, dude? Letting off steam is compared to a valve on a rice cooker. It was a moment of, laugh and shake my head, or say WTH?  See, I said they were quibbly.
Olivia and Nicholas set the pages on fire. So if that's what you're here for, you won't be disappointed. And if like me, you're glad to add a full-fledged Asian-American heroine to your bookshelf, you'll be satisfied on that level, too.
The next installment in the Forbidden Hearts series, Wrong to Need You, due out November 28, focuses on Olivia's brother Jackson and her sister-in-law Sadia. It's about time we give an Asian hero a big time eyebrow waggle.
Get Hate to Want You on Amazon |iBooks |the Ripped Bodice