It's a little surprising that the wave of nostalgia that's overtaking books and tv and toys in the last few years hasn't made it's way to food. Stranger Things and Strawberry Shortcake dolls and totally misguided live action remakes of 80s cartoons like Jem and the Holograms have captured our collective imagination (more or less), but that longing for the good old days hasn't made it to food.  Food is actually swinging in a completely opposite direction, either in "That's so crazy!!" shock value (I'm looking at you Swedish Fish Oreos) or hipstery "Let's put everything in a bowl and pretend its new and amazing."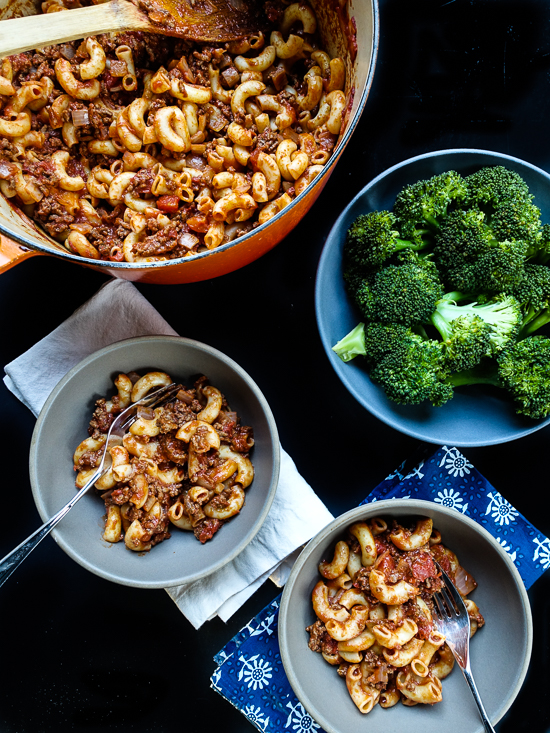 I'm throwing my arms in the air like that section at the baseball game always trying to start the wave, and looking back at the foods of my childhood that aren't quite in the pantheon of true classics.  No doubt a few dishes will be sniffed at disdainfully by some as regrettable food. Screw it, these are the dishes that for better or worse made us who we are, or at least made me who I am.
We'll start with that Midwest favorite, Goulash. It's so straight forward you really don't need a Helper.  There's no dressing it up with oregano or basil, or adding green pepper, as I've seen some recipes suggest.  This isn't Italian. It's so old school, we used to add a little bit of sugar to sweeten up those canned tomatoes. It's not even necessary today. Originally this was served with white sandwich bread, buttered so thickly that your teeth left bite marks in the butter.
Goulash isn't about challenging culinary boundaries or proving your prowess in the kitchen. It's just about getting food on the table that sticks to your bones, that can stretch a pound of ground beef further than it's intended to go, and that can take you back to a time when Choose Your Own Adventure was the biggest decision you'd have to make all week.
Ingredients
1/2 pound large elbow macaroni

1 lb. ground beef

1 medium onion, diced

1 14.5 oz. can ready cut tomatoes

1 8 oz. can tomato sauce

1 6 oz. can tomato paste

salt to taste
Instructions
1
Bring a large pot of water to a boil. Cook elbow macaroni to al dente, according to package directions (typically 5-6 minutes). Drain the noodles and set aside.
2
Heat a Dutch oven over medium-high heat. Brown the ground beef. Add the onion and cook for 5-6 minutes until translucent. Stir in the tomatoes, sauce and paste and simmer for 8-10 minutes. Add the noodles and cook until warmed through, about 2-3 minutes. Season with salt to taste.