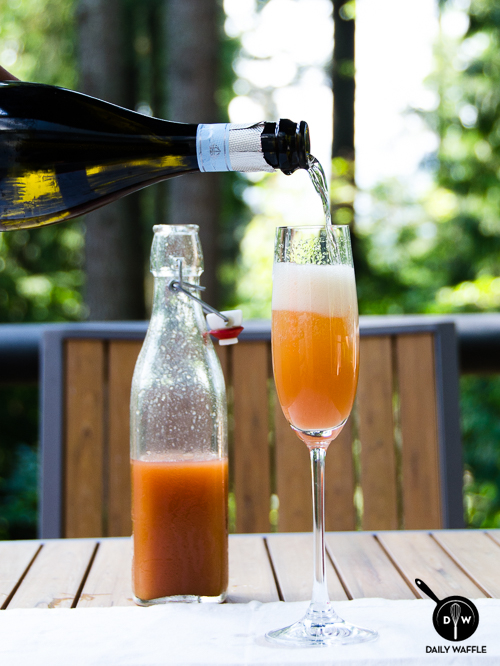 Something about a bellini feels infinitely more luxurious than your usual mimosa. You can get pretty decent freshly squeezed orange juice almost year round, which makes a mimosa standard. But the bellini is something special, something summer, something more than, especially with your own peach syrup.
After this, you'll never want a can of peach nectar again.
We drove out to Ellensburg on a lark not this past Sunday, but the one before, and hit the fruit stand in Thorp on the way back.  You know the one, it's a big white barn off the side of road, with "FRUIT" emblazoned on the broad side in big red letters. In addition to peaches and nectarines and corn and tomatoes, they've got a zillion jams and jellies and barbecue sauces and ice cream and soaps and a wall of refrigerated sodas. Whether or not you've been there, you know the place.
They're advertising 20 lbs of peaches for $8.95.  Who can resist? Well, the clings are $8.95, but that's not stopping anyone from carting out two or three boxes.
The cardboard fruit boxes are all stacked nicely and there's no squeezing the fruit until it's yours. The peaches seem to have been picked and placed straight into the box. No one has pawed each one arranging them in baskets or tumbled them out onto a display, bumping and bruising them as they fall. This fruit is nearly pristine.
I've got no patience for clings, so a box of free-and-easy freestones, variety unknown, came back with us across the pass. And damn if it wasn't the finest batch of peaches I've had this year.
Then the race began — get through all 20 lbs. before the whole thing goes to mush.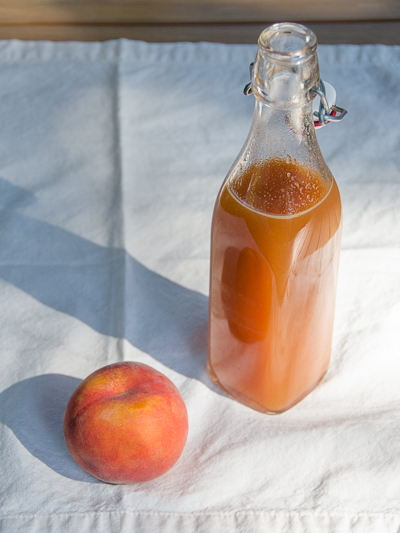 I sent a few peaches home with the in-laws and we ate a few fresh, but I ripped through the rest of the box with a batch of peach jam, 2 large jars of pickled peaches, and a peach crisp, before finishing them off in a fiercely blushing ginger peach syrup (leave the skins on!) for bellinis. It also makes a killer peach soda if that's more your speed.
Hat tip to Beard and Bonnet for throwing the syrup recipe in front of me just as we went into the weekend. Since we're rolling into the Labor Day holiday, I figured by Wednesday, it's not too soon to be talking cocktails. We're all working for the weekend. Pick up some peaches at the farmers market on Saturday and you'll be all set for bellinis on Sunday morning.
A couple of last thoughts. Since I'm all about ginger, instead of just a few coins, I peeled and cut a two, mmm, two-and-a-half inch nub into matchsticks and threw it in the mix.
LaMarca makes an affordable (~$12), fruity, slightly sweet prosecco that pairs nicely with the peach syrup. It's pretty widely available. Around here you can pick it up at Costco, QFC (Kroger) and/or BevMo.
Cheers.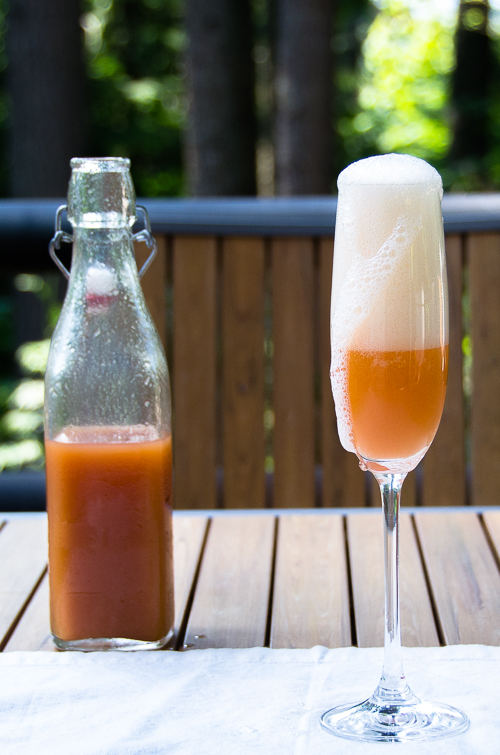 Ingredients
2 oz. ginger peach syrup

~ 4 oz. prosecco (La Marca is slightly sweet and makes for a nice bellini)
Instructions
1
Pour 2 oz. of ginger peach syrup into a champagne flute. Top with prosecco.