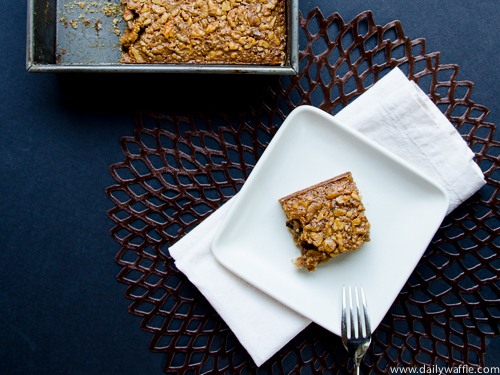 Walnuts. Ruiner of fudgy chocolate brownies, scourge of chocolate chip cookies, I've tolerated you, but there's no love lost between us. You're slightly bitter and unless you're incognito, almonds and pecans rocket past you on my list of favorite nuts.  Until now. Until this recipe. Paired with sweet maple syrup, you are magnificent.
If, like me, you've been putting up with walnuts without really appreciating them, try these maple walnut squares on for size.  You'll be pleasantly surprised.
Over the weekend, I went into overdrive, which is to say, things got back to normal.  After a very long September –- was it only 30 days? – I finally got back into the kitchen in a real way.  There were a number of things at work: fall has arrived for real; and Saturday was the last farmers market  day of the regular season, which made me feel only a little bit desperate to snap up just a few more chiles and apples before the only option I have is the supermarket.
Whisking together maple syrup, maple sugar and eggs, I finally felt like I'd found my way back. I had more than a minute to think. And, thanks to Wolf coming down with something sneezy, our Saturday plan to restock our Marketspice tea stores for the winter and wander around Pike Place was aborted. So I had both days this weekend to get back into the flow. While I'm not officially doing October unprocessed, I've been mostly observing it as a commitment to myself to get back on track after more than a few frozen mac and cheeses and conference food.  Which, these maple squares might fly in the face of, because while they don't have any refined sugar, they do have a stick of butter. Ah, well. At least it's homemade and therefore, not processed.  The saving grace is that they're so rich, you'll be able to limit yourself to a small square.
Maple Walnut has always struck me as an old-timey flavor, right up there with date anything. Maybe living so close to Canada has finally gotten to me. Maple, real maple, is legit delicious and deserves a life beyond pancakes and waffles. But wait a minute, you said maple sugar, too. Not to worry, while I impulse bought it at Trader Joe's several months ago, you can easily order maple sugar on Amazon
. No muss, no fuss. (Fair disclosure: That's an affiliate link, I'll get a few cents if you click on over and order).
The thing about these bars is they're not blondies, they're almost pecan pie-like. Pecan pie being the one dessert I usually find painfully sweet. With the richness and actual flavor of the maple syrup (go grade B for best results) and the slight bitterness of the walnuts, it's just delicious. And the thought of calling the dentist immediately after eating a square never materializes.
Incidentally, the recipe is from Saveur, and it's one I pinned a year ago and never got around to making. Seems like a good time to revisit and see what else is hiding down at the bottom of my boards from last fall.
RECIPE: Maple Squares with Walnuts