Let's face it, one of the best things about sandwiches is chips.  There are few things more perfectly nostalgic than a PB&J with a mini bag of Lay's classic potato chips, or a tuna salad sandwich with some Ruffles crunched down on top, or pretty much any sandwich plus Doritos. My latest chip obsession is Kettle Chips' Red Chili, a flavor they've brought back for a limited time to celebrate their 30th birthday. They're dang close to the Miss Vickie's Sweet Chili and Sour Cream I've only been able to get in Canada and they're perfect with this Tzatziki Chicken Salad Sandwich.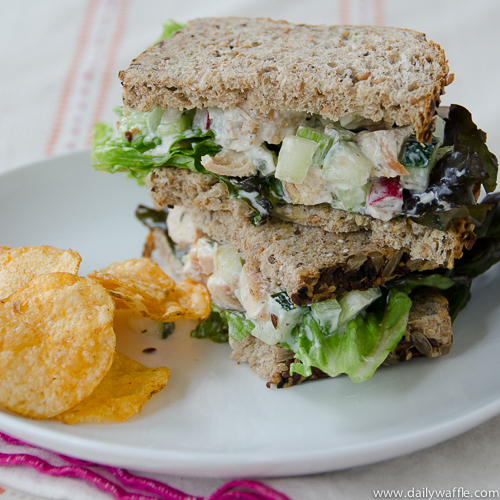 This salad is the kind of thing you can whip together from a couple of chicken breasts you cooked earlier in the week. These were just seasoned with salt and pepper and sauteed in a pan. I like crunchy when it comes to "salad sandwiches" of any kind, so I've diced the cucumber rather than grating it and added some celery and a radish. The radish is totally optional, but adds some nice color and when you've got radishes rolling around in your vegetable drawer, why not? It's the Reverse Grocery List in action.
While you'd ordinarily do chicken salad sandwiches with mayo, this one goes Greek (yogurt) for its creaminess. Your call on whether you go full-fat, two percent or zero, but Fage zero is usually what we have around and it does just fine.  As usual with tzatziki, you'll want to let the lemon and garlic mojinate in the yogurt and eat or serve this chilled.  The garlic is on the light side, lighter than when I make tzatziki on its own, so you can eat this at work without pitstopping to brush your teeth before your afternoon meetings. This is designed to be a sandwich, so if you want  to serve it over greens as a chicken salad salad, you will probably want more lemon and more salt. I did.
If you're not eating this straight away, the cucumbers will start to give up their water and thin the yogurt a bit. So if you make this the night before, pack the bread separately and check the salad before you head out the door, you may want to add a bit more yogurt to thicken it up.
Ingredients
1 ½ c. diced, cooked chicken breast

½ c. cucumber, seeded, peeled and diced

1 celery stalk, finely diced

3 T. Fage Greek yogurt

juice of half a lemon

1 small radish, finely diced (optional)

¼ t. minced garlic (don't use a microplane)

½ t. fresh mint, minced

salt and pepper to taste

4 slices of whole grain bread

2 leaves of green or red leaf lettuce
Instructions
1
In a large mixing bowl, combine chicken breast, cucumber, celery, Greek yogurt, lemon juice, radish, garlic and mint. Season with salt and pepper to taste.
2
Chill for 15-30 minutes to allow the flavors to meld.
3
To serve, layer a leaf of lettuce on your whole grain bread, top with chicken salad, and add your second slice of bread. Repeat. Voila.
Notes
With already cooked chicken breasts on hand this sandwich is cinch to pull together for lunch or a Friday night light dinner.