Saturday morning. It's still dark – moon-is-still-up-dark – at 7 a.m.  You check email, Twitter and Facebook while still lying in bed.  You get up, brush your teeth, let the dog out and then stumble into the kitchen to make coffee. It's light by now, and there they are on the counter, shoved off to the side, but staring you in the face — six(!) bananas you bought last weekend that didn't get eaten.  Too far gone for anything but banana bread.  But it's November, it's red cup season (not a Solo cup, the other one) so why settle for regular banana bread? Let's do one better. After coffee. Ginger Spice Banana Bread.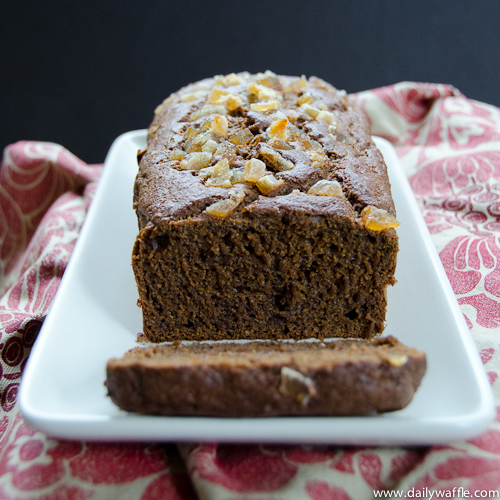 More and more lately, I've been experimenting when it comes to baking.  Usually there's not much room for experimentation or error, but using some well-worn favorites as a guide, I transformed regular banana bread into a gingerbread banana loaf sweetened only with bananas and molasses.  We've typically been a Grandma's molasses household, but I picked up a bottle of Brer Rabbit (strangely, they're both owned by B&G, which is also the parent company of Las Palmas, Molly McButter and Mrs. Dash) and it's definitely got bigger molasses flavor than Grandma's. We may be switching over permanently…at least for baked goods.
Ingredients
1 c. whole wheat pastry flour

2/3 c. all-purpose flour

1/2 t. baking soda

1/4 t. baking powder

3/4 t. salt

1 t. cinnamon

1 t. ground ginger

1/2 t. ground cloves

1/2 t. ground nutmeg

6 T. unsalted butter, melted

1/2 c. molasses (measured in a dry measuring cup)

2 eggs

2 ripe bananas, mashed (~1 cup)

1 t. fresh ginger, grated (optional)

3-4 chunks crystallized ginger, chopped (~2 T.)
Instructions
1
Preheat oven to 350F. Line an 8.5-inch loaf pan with parchment paper. Set aside.
2
In a medium bowl, whisk together the flours, baking soda, baking powder, salt and spices.
3
In a large bowl, using a hand mixer, combine the butter, molasses, eggs, banana and fresh ginger, if using, until well-combined.
4
Mix in dry ingredients on low until just combined.
5
Pour the batter into the prepared loaf pan and sprinkle with crystallized ginger.
6
Bake for 40-45 minutes, until a toothpick inserted into the middle comes out clean. Let cool in the pan for 3-5 minutes and then transfer to a rack to cool completely.