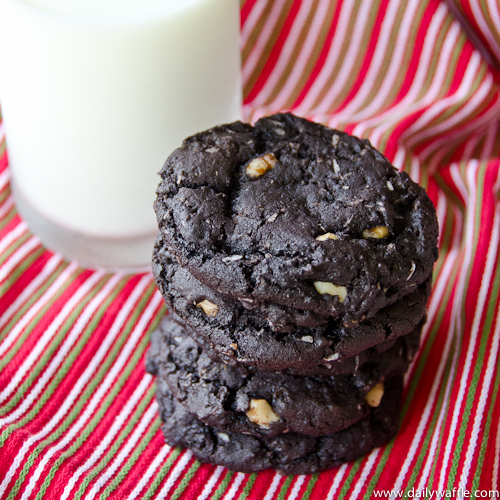 Every Christmas, I find myself making the same cookies. For every other holiday, it's ok to add new dishes, but at Christmas, there's something comforting about tradition, about knowing that there will be snickerdoodles and chocolate crinkles and that my mom will probably send me a batch of candy cane cookies. But if tradition is just something you've done more than once, these chocolaty, coconutty, walnut-studded "brownie meets German chocolate cake" cookies are going to be a new holiday tradition.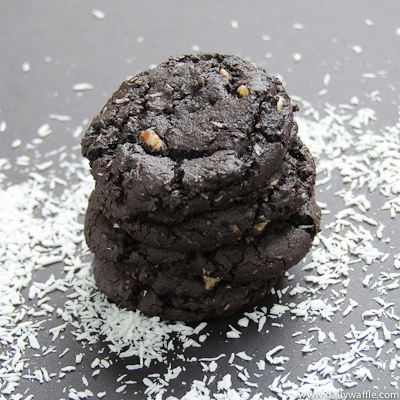 Can I tell you? I don't even like German chocolate cake. It's that ooey-gooey-gluey frosting between the layers — ick! What I do love is chocolate. And coconut. And in this case, walnuts. If I was doing this by the book, I s'pose they'd be pecans, but I like the slight bitterness of walnuts here, despite my longstanding opposition to nuts in cookies.
Why are they called Chocowalnos? It sounds like a cookie, doesn't it? The alternative was German Chocolate Cookies, which while descriptive, is long. I briefly considered biting the style of  the"Better than Robert Redford," dessert which I get, but I don't, because I've never been into Robert Redford, not even in Butch Cassidy, let alone in Indecent Proposal or that one movie where Michelle Pfeiffer is a TV reporter. (I looked it up — Up Close and Personal, 1996). "Better than Ryan Gosling" cookies, anyone?  Right, Chocowalnos, it is.
These little guys have the chewiness and chocolaty-ness of a good corner piece brownie. The best part is that they're a cinch to make, no chocolate melting required (not that that's difficult, it's another dirty bowl/pan). It's just Hershey's Special Dark cocoa giving you that deep, dark chocolaty color and flavor. Well, that and a little bit of espresso powder.  Two batches passed with flying colors at OJ's office and got a thumbs up from friends in Denver, so I'm sure Santa won't mind a bit if you offer these up for Christmas Eve milk and cookies.
UPDATE 11/5/12: I've entered these Chocowalnos in the LA Times Holiday Cookie Bake-off. I know we're all sick of hearing about elections by now, but I'd sure love your vote here.  Thanks!
Ingredients
1 1/2 c. all-purpose flour

1 c. Hershey's Special Dark cocoa powder

1 t. baking soda

1/2 t. salt

1 c. sugar

1/2 c. dark brown sugar, firmly packed

1/2 c. canola oil

2 eggs

1 1/2 t. vanilla extract

1 t. espresso powder (Medaglia d' Oro)

3/4 c. unsweetened shredded coconut

3/4 c. walnut pieces
Instructions
1
Preheat the oven to 375F. Line a baking sheet with parchment paper and set aside.
2
In a large bowl, sift together flour, cocoa, baking soda and salt. Using the paddle attachment on your stand mixer, combine the canola oil and sugars on medium speed. Scrape down the bowl with a spatula between each step to ensure even mixing.
3
Add the eggs one at a time, mixing until just combined. Add the vanilla and espresso powder.
4
Mix in the dry ingredients in two increments, until just combined. The dough will be fairly stiff. Fold in the coconut and walnut pieces.
5
Using a small spring-loaded ice cream scoop (about 1 1/2 tablespoons), place scoops of dough about 2 inches apart on your baking sheet. Press them down lightly with the palm of your hand.
6
Bake for 10-12 minutes until the tops begin to crack. The centers will be slightly soft to the touch. Let cool for 2-3 minutes before moving to a cooling rack to cool completely.