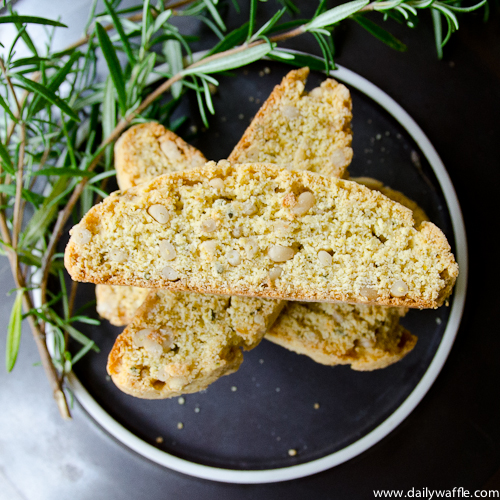 It's Tuesday night.  The gorgeous Asian pears are gone, except for a half, the blueberry muffin from Craftsman and Wolves but a memory, the husband is sick and watching Corner Gas somewhere he can't infect the rest of the household, and I had my dad's Sloppy Joes for dinner.  It involves Campbell's Chicken Gumbo soup. Don't judge.  It's back to real life.  It's a relief.  Being on the road, dining out for every meal, sounds glam, but it is tiresome. I'm not 25 anymore.
But believe me, it's not a complaint.  I had a fantastic time in San Francisco, catching up with folks I see once a year. Italian and Cal-Italian dominated our restaurant choices over the course of the week and Tim, the friend we hung out with at the market, and I chatted about lavender biscotti, so naturally I'm diving back into posting with these little Italian cookies on the brain. So, Rosemary, Cornmeal and Pine Nut biscotti.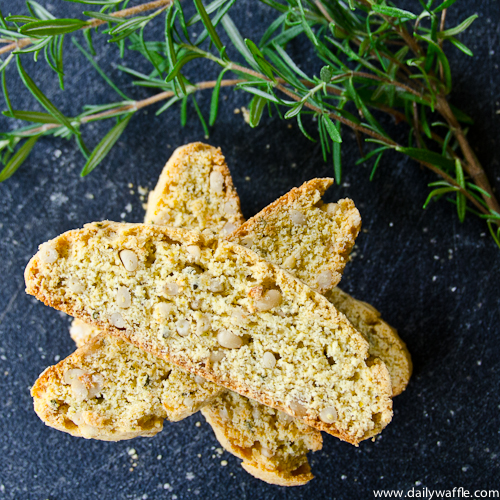 A little bit sweet and a little bit crumbly, these are perfect as they are, or perhaps smear them with a soft blue cheese.  Please just don't dip them in coffee.  These aren't those biscotti.  (I tried it — don't do it. A glass of red wine on the other hand, might be a different story).
The recipe comes from Eating Well. The rosemary really is subtle. Two tablespoons, even fresh, seemed like a lot, but minced it nearly disappears into the dough.  The confusing part is the savory perfume that fills your kitchen while these are baking. Between the olive oil, the rosemary and the cornmeal, you might be expecting something all-together different. This is still a sweet cookie.
One word of advice, use a serrated knife to cut the biscotti after the first bake, and be gentle, these are on the crumblier side.  My only amendment to the recipe was to sub in half whole wheat pastry flour. The dough doesn't suffer for it, and sneaking in some whole grains never hurts.  The dough could also be a nice base for orange-pistachio, or even the lavender-lemon Tim was noodling on. I see more biscotti in my future.