In FoodBlogLand, everything is well lit and screen-lickingly delicious. All dishes are successes and a minor misstep can be saved with a well-placed garnish or a sauce. But in the real world, sometimes things just don't turn out the way you expect. I could let this custard melt back to its former state (which would take less than 5 minutes) and call it a shoyu caramel milkshake, but I'm not gonna do it. It was meant to be ice cream and it just didn't freeze into anything that would hold a remotely scoop-like shape. It just didn't.
The caramel flavor is strong, the consistency is creamy with the elasticity you associate with caramel,but you just can't lick it off a cone. But even in this beautiful disaster there's a win – the caramel sauce.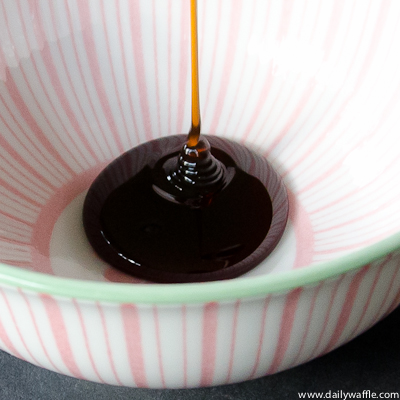 This is no ordinary caramel (do you say car-mull, or care-a-mull?). Inspired by the yaki-nigiri, rice balls grilled and basted with teriyaki sauce, from the Bon Odori festival a couple of weeks ago, I thought, why couldn't a simple shoyu (aka soy sauce) and sugar mixture be a caramel for ice cream?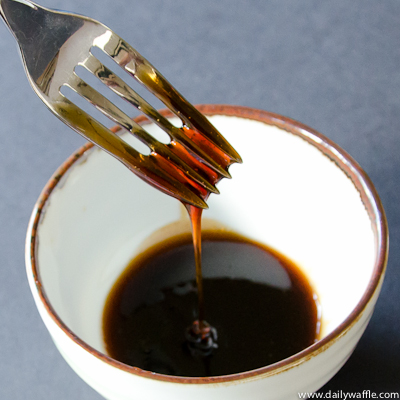 If you read the Saveur's Sites We Love piece on the DailyWaffle [Yes, shameless plug. I'm still over the moon about it!], you know soy sauce is one of my favorite ingredients. It goes on scrambled eggs, it's a dip with mayo, so why not on dessert?
The sauce is salty sweet and takes on caramel notes through the cooking. Made with just two ingredients, yes amazingly just two — soy sauce and sugar — it's the core of teriyaki sauce. Sure, you could go experimenting with different soy sauces, but we just use Kikkoman around here. Bottom line, this caramel sauce is fantastic on vanilla ice cream. You need that simple backdrop to really let it shine. Won't it be a nice little surprise along side the hot fudge and butterscotch and strawberry the next time you do an ice cream sundae bar? The answer is yes. 🙂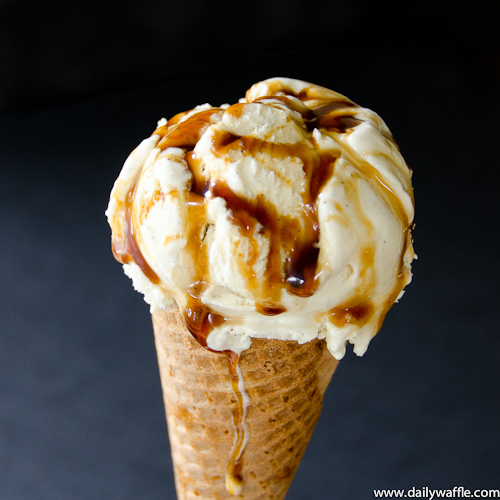 Ingredients
2 T. soy sauce (we use Kikkoman)

¼ c. granulated sugar
Instructions
1
In a small saucepan, combine the soy sauce and sugar. Heat over medium low, until the sugar dissolves and the mixture comes to a boil. Cook for 2-3 minutes, stirring constantly so it doesn't bubble over. Turn off the heat and let cool completely.
2
The mixture will thicken up as it cools. If it's too thick to drizzle once cooled, microwave it for 10-15 seconds to loosen it up.
3
The recipe is easily doubled or tripled according to the number of people you'll be serving.