Traveling Chefs: Matt's in the Market Meets Pok Pok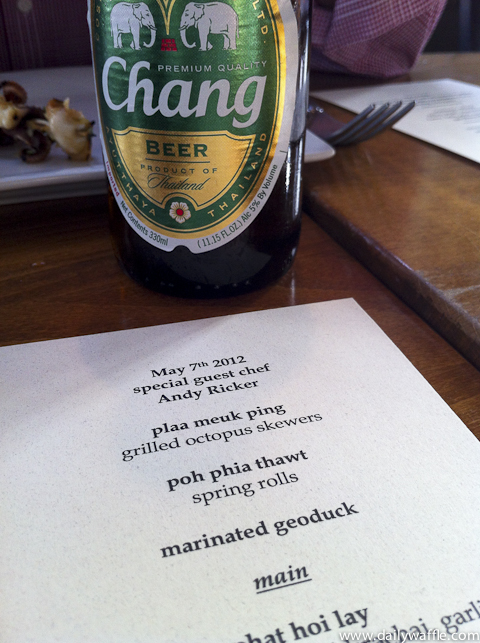 You never expect a Monday to be the best day of your week. But man, yesterday was about as good a Monday as it gets around here. A sunny, 75 degree day, where I sat out on the deck at lunch and then wrapped up the day with a Thai-themed extravaganza/ Traveling Chefs dinner at Matt's in the Market, with dishes from Matt's Chef Chester Gerl and Pok Pok's Andy Ricker, 2011 James Beard Foundation Best Chef Northwest.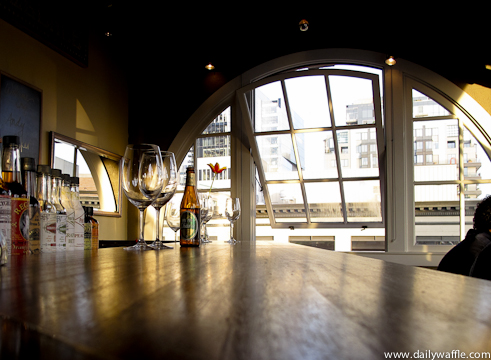 Matt's in the Market is terrific on its own. It's the place I think to take friends visiting from out of town. It's right there at Pike Place, and the food is never eclipsed by the view. Pok Pok has been on our list and was actually mentioned again to OJ recently on a flight back to Seattle. So with an opp to try a few dishes from both Chester Gerl and Andy Ricker, who'd just flown in Sunday night from New York, it was a no-brainer.
With a sunny afternoon, there was so much good light happening at Matt's yesterday that most of my photos ended up non-food.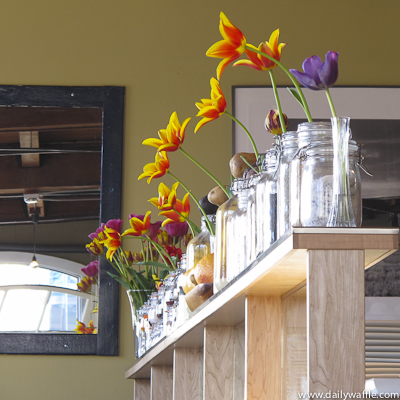 My tulip obsession continues.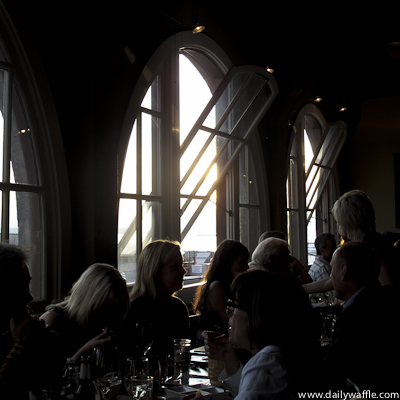 So much pretty light.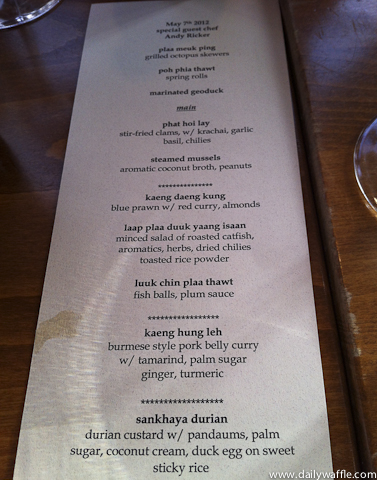 So let's get to the food, eh? Typically, I'm not much of a seafood eater. Hold the phone, this is Seattle, right?! (I know). And when I say "not much," I mean I was scarred for life by my grandma's pan-fried salmon stinking up the house and my fish repertoire has been fairly limited ever since — fish and chips, grilled prawns, shrimp tempura, maybe seared tuna. The point of the Traveling Chefs dinners is to take advantage of what's fresh and wonderful at the market. It requires that you come into it with the right attitude: the right chefs, the right ingredients, it'll be delicious. I knew there would be a lot of seafood. I tried and enjoyed everything, from the grilled octopus on down, but skipped the clams and geoduck to save room for that Burmese pork belly curry.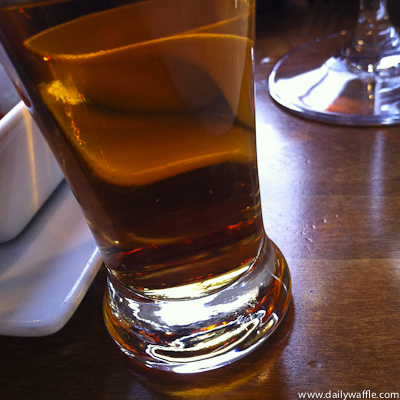 So let's start with a little Thai whiskey. It's got nothing on Blanton's, but then again, I can't imagine sipping a Blanton's with this food either.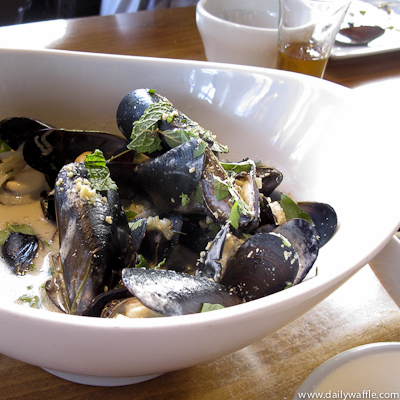 Mussels! I don't eat mussels, except oh wait, I did. And they were delicious.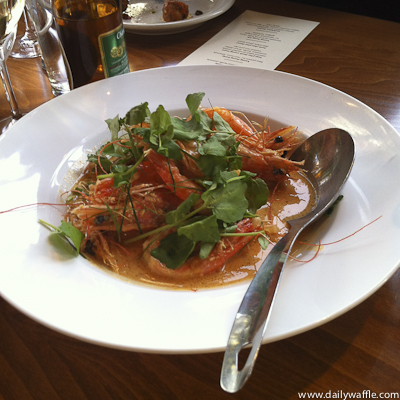 Prawns. Salty, sweet, sour, spicy. You just wanted to soak up every sauce with a gob of rice (or a chunk of bread).
Too busy enjoying the food, I didn't even get shots of the dishes I liked the most — the fish balls, the catfish salad, the pork belly. I never thought I'd say this, but the fish balls may have been my ultimate fave of the evening. The meal wrapped up with a durian custard over sticky rice for dessert. It, uh, pretty much tastes the way it smells, though it wasn't as noxious as you might think.
At the end of the evening, the entire staff was introduced and thanked with a well-deserved round of applause. Needless to say, I haven't been very hungry at all today.
Matt's in the Market's Traveling Chefs dinners continue on selected Monday nights through mid-June (on the current schedule). Dinners with Dominique Crenn of Atelier Crenn in San Francisco and Naomi Pomeroy of Beast in Portland are yet to come. Six courses, wine pairings included, $125 + gratuity. Check the site for details.
Matt's in the Market
94 Pike Street (at 1st)
Seattle, WA
206-467-7909