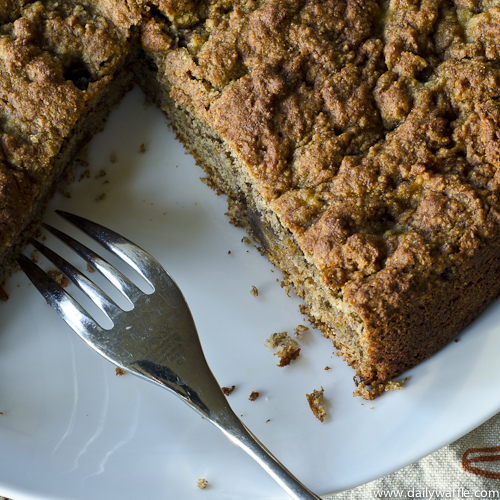 This week, I've been in overdrive catching up on Mad Men so that I'm up to speed for season 5. And now I've got '60s-era food on the brain. But rather than torture myself with some kind of terrible aspic with vegetables in it, I decided on a date cake. Flipping through some of my vintage cookbooks I discovered we used to eat a lot more date cake and date bread than I realized. It's even in an episode of Mad Men, one where Don Draper is having a tete-a-tete with Sally's teacher in season 3. She's made three loaves of date nut bread for a school bake sale.

This banana date cake comes from Terry Walters' Clean Start,
so rather than white or wheat flour, it relies on almond meal and chickpea flour for its heft and a good dose of baking powder to help it rise. I'm not vegan or gluten-free, but I'm always interested in a little experimenting in the kitchen. I baked mine in a 9-inch round cake pan.
This is actually the third recipe I've tried from Clean Start, the others being the Chewy Chocolate Macaroons and the Polenta-Crust pizzas. It's a good book to come back to when I'm plum out of ideas and staring at a crisper drawer full of vegetables.
I still prefer a wheat flour date cake, but this one is really quite good. When you'll really notice that it's not made with wheat flour is when you're chewing it. The crumb is just fine, but the chickpea flour makes the mouth feel a little more pasty than you'd expect. My only substitution was potato starch for the tapioca flour.
Vegan bakers out there, is there a flour you like better than chickpea for cakes?
RELATED: Banana Maple Date Scones (not vegan)