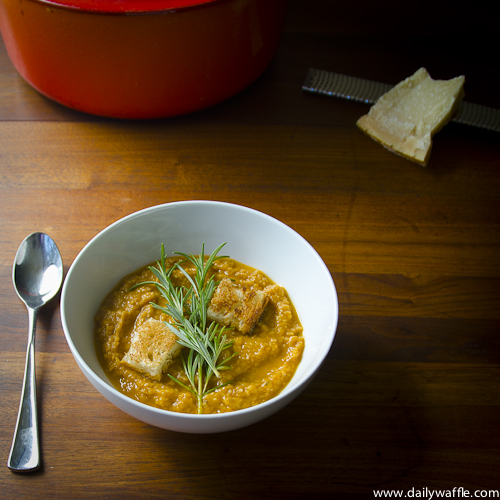 Oh, humble chickpea, when we met at the Sizzler salad bar when I was seven, you were called garbanzo beans, and you were just an alternative to kidney beans in my salad. Little did I know that around the world, other cultures were doing you so much more justice in dal or falafel or hummus. But over the years, we've become good friends you and I, and it might just be because of Tuscan chickpea soup.
It is still soup time around here. Spring has sprung, but for the last week it's been crazy in Seattle. Cherry blossoms are already blooming in DC and East Coasters are relishing 70 degree days, meanwhile we've gotten snow, rain and hail — sometimes all in the same day. That calls for soup. Soup to warm your bones and put you in mind of warmer climes. Soup like this Tuscan Chickpea number.
This is a mash-up of two recipes — Anne Burrell's Passato de Ceci and Cooking Light's Tuscan Chickpea Soup — the one I've made for years. I think you get better texture and flavor from using dried chickpeas versus canned, but what's great is, you can make it fit your schedule. No time to soak and cook chickpeas? No problem, pick up 3 cans of chickpeas on the way home from work. Cook time will vary for the soaked chickpeas and you may need to add more water to keep them just covered as they cook.
Ingredients
2 T. olive oil

1/4 lb. pancetta, diced finely

2 carrots, diced (~1 c.)

1 celery stalk, diced (~1 c.)

1/2 a large onion, diced

3 large garlic cloves, peeled and smashed

2 c. dried chickpeas, soaked overnight (or 3 14oz. cans of garbanzo beans, drained and rinsed)

1 32 oz. box chicken broth

1 14 oz. can whole plum tomatoes, squished by hand

2 c. water

2 rosemary stalks (~3 in. long)

1/2 t. dried thyme

1 T. balsamic vinegar

salt & pepper
Instructions
1
Heat a large Dutch oven over medium heat. Add the olive oil and pancetta and cook just until crispy. Add carrots, celery, onion and garlic and cook until onions are translucent, about 5-7 minutes. Add the chickpeas, chicken broth, tomatoes, water, rosemary and thyme. Bring the soup to a boil and then reduce heat to a simmer. Cook for 1 1/2 to 2 hours (30 minutes if using canned), until the chickpeas are broken down. As the soup cooks, you may need to add water to keep the chickpeas just covered.
2
Puree the soup in batches in a blender, or using a hand blender, until you reach your desired consistency, it should be slightly lumpy. The soup will be thick, add additional water or chicken stock to thin it as desired. Add the soup back to the pot, stir in balsamic vinegar and season with salt and pepper.
3
Serve with toasted French or Italian bread rubbed with garlic and top with grated parmesan.