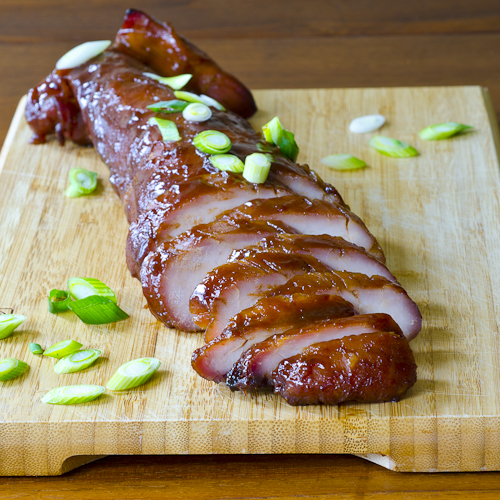 Last week I posted a one-off with a photo of some char siu chicken legs we had in Kauai. I don't know what the secret to char siu is aside from the red food coloring, but I'm determined to crack it. I went to Uwajimaya yesterday to check out the jarred and packet marinades and see what was in those, but the plan was to make the marinade myself. So, while some Chowhounders said there's no way a restaurant uses ketchup and hoisin, an old recipe in the Honolulu Star Bulletin said different.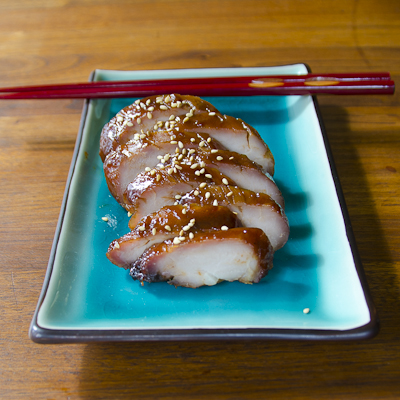 While at Uwajimaya, I did look for the wet bean curd called for in the recipe, but couldn't find it. I didn't intend to add the red food coloring, so I knew this guy was going to come out brown rather than the technicolor red/pink of the original. Fine, no problem. It was more a flavor I was looking for anyway.
Though everyone calls for pork butt or shoulder, I wasn't going to commit 3 or 5 pounds of meat to an experiment, mostly because we're a small household and we'd be eating the results until the next millenium. I love char siu, but a girl's gotta know her limitations. My pork tenderloin was about a pound and a quarter, so I cut the sugar to 1/4 c. and everything else in half. I let it marinate for 20 hours in a ziploc bag in the fridge. I baked it on a rack on a cookie sheet (sorry, no hanging it from the oven rack) for 45 minutes at 350F and an additional 10 at 300F. When I pulled it out of the oven it was about 165F, very well done for a tenderloin, but it didn't come out tough or dry.
I bought some pre-made char siu at the market so you can see it side-by-side. And in taste, I have to tell you, all I taste in the char siu from the market is pork, and maybe red, if you can say red is a flavor. It's not even as flavorful as the marinade they used at Foodland. So while this is a perfectly delicious pork preparation — it's hoisin pork, not char siu. If you've got good weather, I'd throw this on the barbecue rather than baking it, you'll get some nice carmelization from the hoisin and sugar.
As experiments go, this one yielded something entirely delicious on it own, but char siu-wise, I've got work to do on the marinade. Is the secret that wet bean curd? Maybe it's the brand of 5-spice? I'll report back if I hit on something. In the meantime, if you figure it out, let me know.

Ingredients
1 pork tenderloin, about 1-1.5 lbs.

1/4 c. sugar

2 T. hoisin sauce

2 T. ketchup

1 t. Chinese 5-spice

1 T. salt

1 T. sesame oil

1 T. brandy
Instructions
1
Trim the pork of its silver skin and any extra fat. In a large Ziploc bag, mix together the sugar, hoisin, ketchup, 5-spice, salt, sesame oil and brandy. Add the pork and give it a good massage to work in the flavors. Let marinate at least overnight to 1 day.
2
If baking, preheat the oven to 350F and put a cooling rack on a baking sheet. Set the pork on the cooling rack and set the marinade aside. Bake the pork for 45 minutes and then reduce the heat to 300F. Baste the pork with some of the remaining marinade and bake for an additional 10 minutes. Remove the pork from the oven and let cool.
3
Slice the pork on the bias to serve.
Notes
Adapted from the Honolulu Star Bulletin