World Nutella Day coincided with the SuperBowl this year and they basically cancelled each other out on the food front for me. I did make guacamole. You can't have the Superbowl without guacamole. Anyway, I've been playing a little catch up, so instead of just going the Nutella route, I did one better and came up with these Ovaltine Nutella cookies, because, well, just because.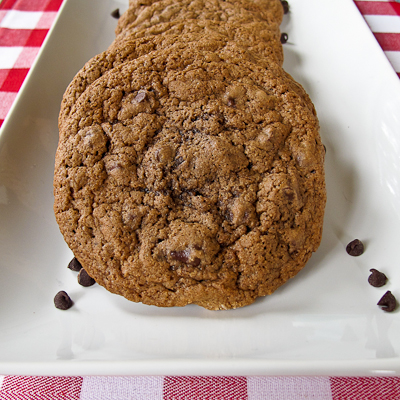 Ovaltine, like Nutella, was originally developed in Europe in 1904 and introduced in the US a year later, according to the Ovaltine Web site. In the 1950s, it was promoted as giving kids "rocket power", and who can forget the "More Ovaltine, please!" tagline?
Although it's been long promoted as a dietary supplement rich in vitamins, I was more of a strawberry-flavored Nestle Quik kid. Mmm, artificial strawberry. For me, it was the Ovaltine lattes at Top Pot (one of the best doughnuts in Seattle!) that got me on the Ovaltine bandwagon. Well, that and the running exchange I've had with my husband since we were dating. It must have started some time we had dinner at his place.
"Can I get you something to drink? Water?"
"No, I'm good," I say.
"Coffee?"
"No."
"Soda?"
"No."
"Ovaltine?"
"Ovaltine? You have Ovaltine?"
"No."
What single guy has Ovaltine?
Anyway, the recipe is adapted from Cooking Light, and is a little less light, though between the whole wheat pastry flour and the vitamins in the Ovaltine…who am I kidding? It's still a cookie. And it's a crunchy one.
On the chocolate chips, I know you'll say, "What? Both regular and mini semi-sweet chips?" I think the minis help distribute chocolate flavor a little better throughout the batter and the regular ones give you a nice chunk of chocolate in the cookie.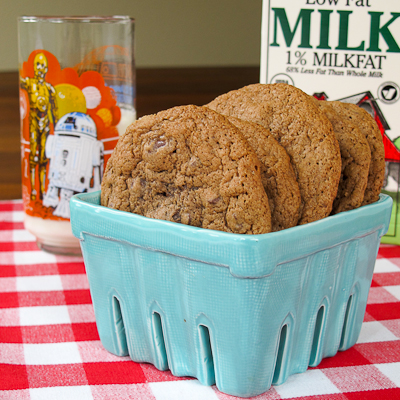 Ingredients
5 T. unsalted butter, softened

1/2 c. granulated sugar

1/2 c. brown sugar, firmly packed

2 eggs

4 T. Ovaltine (Chocolate Malt Flavor)

3 T. Nutella

1 t. espresso powder (I use Medaglia d'Oro)

1 T. Mexican vanilla

1 c. all-purpose flour

1 c. whole wheat pastry flour

1 t. baking soda

1/2 t. salt

1/2 c. semi-sweet chips

1/3 c. semi-sweet mini chips
Instructions
1
reheat oven to 350F. Line a baking sheet with parchment paper or a silpat and set aside.
2
In a small bowl, whisk together flours, baking soda and salt.
3
In a large bowl (or stand mixer), beat together the butter and sugars until light and fluffy. Add the eggs, Ovaltine, Nutella, espresso powder and vanilla and beat until well-combined.
4
Mix in the dry ingredients, in two passes, just until combined. Fold in the chocolate chips.
5
Using a small spring-loaded scoop (about 1 1/2 T.), drop the cookies onto the prepared cookie sheet leaving 2-3 inches between them. I did six on a sheet. Bake for 10-12 minutes. Let stand for 2 minutes or until firm and transfer them to a cooling rack.