Happy New Year, folks! I'm not much for new year's resolutions, but coming off two weeks of insane indulgence, it's time to get back on the wagon. I won't be vowing to hit the gym only to poop out by the end of January, but I will be trying to eat more vegetables and get more whole grains into my diet.
So let's start off the year with this gorgeous muhammara dip, shall we? Using a base of roasted red peppers, it makes for a pretty healthy snack with pita chips or carrot sticks and offers a nice alternative to hummus. It's fantastic alongside tzatziki for grilled chicken or lamb kebabs, too.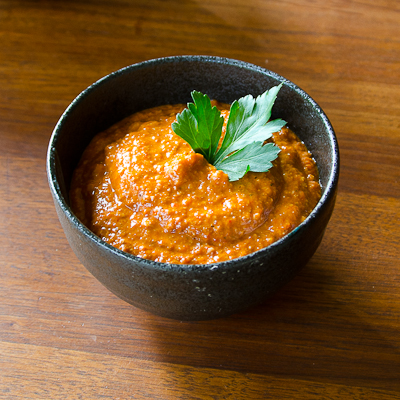 The muhammmara is a snap to make, you're really just throwing all the ingredients into a food processor and whirring them up. In the summer, go with 2-3 fresh roasted peppers, but quality ones in a jar do just fine for these lean months. The jar I picked up at Trader Joe's were Product of Spain and still had a nice bright red color.
It does have one unique ingredient — pomegranate molasses. I picked up the molasses a couple of months ago intending to find something to make with it. Others suggest reducing bottled pomegranate juice until syrupy, but for the price, it's worth visiting your nearest Middle Eastern market or just ordering on Amazon.
A couple of notes:
1. My only adjustment to the original recipe on Epicurious is to dial back the olive oil to 1/4 c.
2. With a 1/2 t. of red pepper flakes, this does have a bit of a kick, so if you're not a fan of the spicy, cut it to 1/4 t. or even just a pinch.