Nuts DO Belong in Brownies: Bourbon Pecan Pie Brownies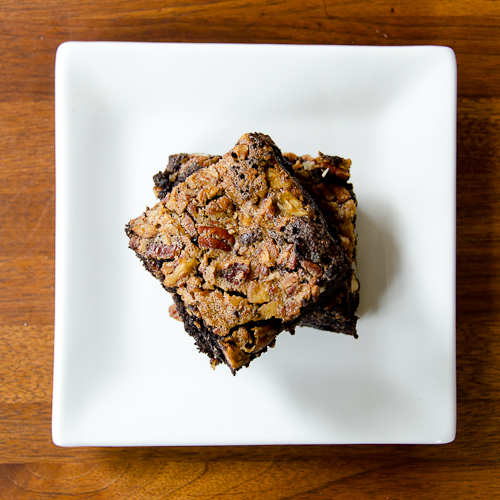 All my life I've been a firm believer that nuts have no place in brownies. Full stop. Brownies are brown because of chocolate (or cocoa). Today I'm revising that to walnuts have no place in brownies, because pecans, well pecans are unbelievable in brownies. I have Jessica at How Sweet It Is to thank for the realization because of these Bourbon Pecan Pie Brownies.

I have a brownie recipe that I've loved since I was a kid that came from some long gone brownie cookbook. I made it so many times that it was committed to memory. Of course, making brownies is a little like riding a bike, so when it'd been a few years since I'd made them, I had to approximate the baking powder and salt. I still love these brownies. So I took Jessica's bourbon pecan pie topping, cut the recipe in half to accommodate an 8×8 square pan and went straight to the kitchen to whip up a batch.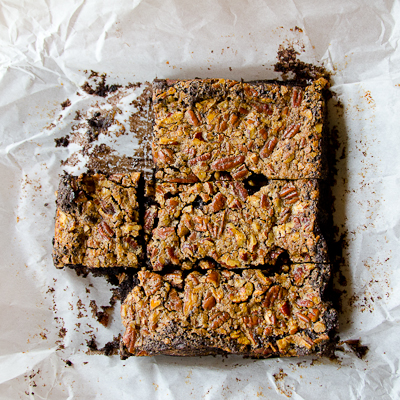 Bourbon Pecan Pie Brownies
Adapted from How Sweet It Is

Brownies
2/3 c. whole wheat pastry flour (or all-purpose)
1/2 t. baking powder
1/2 t. salt (regular, iodized)
1 c. granulated sugar
2 eggs
1/3 c. oil
1 t. vanilla extract
1/3 c. Hershey's Special Dark cocoa

Bourbon Pecan Topping
1/4 c. light brown sugar, firmly packed
1/4 c. light corn syrup
1 egg
1 1/2 t. vanilla
2 T. butter, melted
1 T. bourbon (Maker's Mark is what I had around)
1/8 t. cinnamon
1 c. pecans, chopped

Preheat oven to 350F. Line an 8×8 pan with parchment paper.

In a small bowl, whisk together flour, salt and baking powder.

In a medium bowl, beat together sugar, eggs and oil until light and fluffy. Add vanilla and cocoa, mix until just combined. Stir in flour mixture. Pour brownie batter into prepared pan.

In another small bowl, using a hand mixer, combine brown sugar and corn syrup. Mix in egg, vanilla, butter, bourbon and cinnamon. Fold in pecans.

Pour the pecan mixture over the brownie batter and bake for 35-40 minutes. Check for doneness with a toothpick. The brownies will pull away from the sides of the pan, but will be pretty moist in the center as the topping seeps down into the brownie.