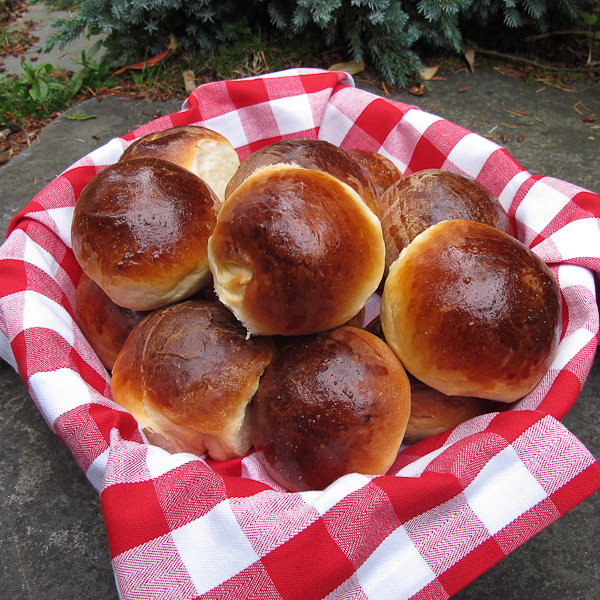 About 10 years ago there was a PBS reality show, Frontier House, where a bunch of modern day Americans were taken out to Montana to live as frontiers-people did in the 1880s. And other than the guy who built a house from the ground up for his bride, the woman I remember best was a baker. If there's a skill that's valuable and will keep an early settlement going (other than building shelter!), it's being able to grind wheat into flour and bake loaves of bread by feel, by memory. I'm not a baker by instinct, I'm a baker by following instructions, particularly when it comes to breads. Wolf has always been the baker around our house. I've found myself better at biscuits, my patience suited to a quick knead and cutting out biscuits.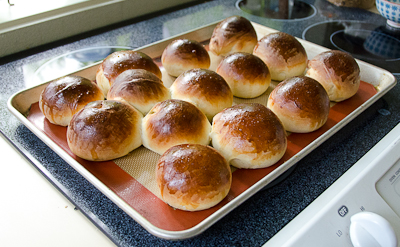 But these milk bread rolls, these I can do with a recipe and my Kitchen-Aid. From what I can tell, the difference between Parker House Rolls and milk bread, is pretty much how you shape it. It's a yeast-egg-milk-flour mix any-which-way. These rolls are similar to a Portuguese pao doce — somewhere between a yeast roll and a super soft Hawaiian roll…and they'll make great little sliders. And the best part is they give even the novice baker that same feeling of accomplishment you had when you were a kid, "Yeah, I made this!"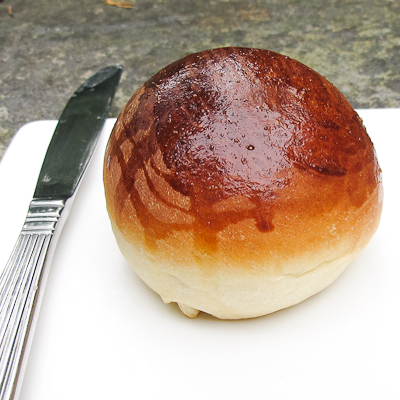 Ingredients
2 1/4 t. active dry yeast

3 T. warm water -- 105 to 115F degrees

1 c. milk -- 105 to 115F degrees

5 T. butter, melted

3 T. sugar

1 egg

1 teaspoon salt

2 cups bread flour

1 1/2 to 2 cups all-purpose flour

Egg Wash

1 egg

pinch of salt

Non-stick vegetable spray
Instructions
1
In the bowl of a standing mixer, stir together yeast and water and let sit for 5 minutes. Add melted butter, milk, sugar, egg and salt and combine on low speed. Gradually mix in bread flour and all purpose flour until the dough is formed and not sticky.
2
Switch to the dough hook attachment and knead until the dough is smooth and elastic.
3
Coat a large bowl with canola oil, form the dough into a mound and drop into the bowl. Cover with plastic wrap and let rise for 1 to 1 1/2 hours until doubled in volume.
4
Punch down the dough and divide into 12-18 pieces (depending on what size roll you want - I got 14 ). On a non-floured surface, roll the dough into a mound shape and place on a baking sheet lined with parchment or a silpat. If you want individual rolls, place them 2 inches apart on the baking sheet. If you like pull apart rolls, place them shoulder-to-shoulder on the sheet.
5
Whisk together the egg and pinch of salt to create an egg wash. Brush the rolls with the egg wash.
6
Spray a sheet of plastic wrap with non-stick spray and cover the rolls. Let rise for 1 hour.
7
Preheat the oven to 425F. Brush the rolls with egg wash again and bake for 15 minutes until the rolls sound hollow when thumped on the bottoms.
Notes
Adapted from Joy of Cooking