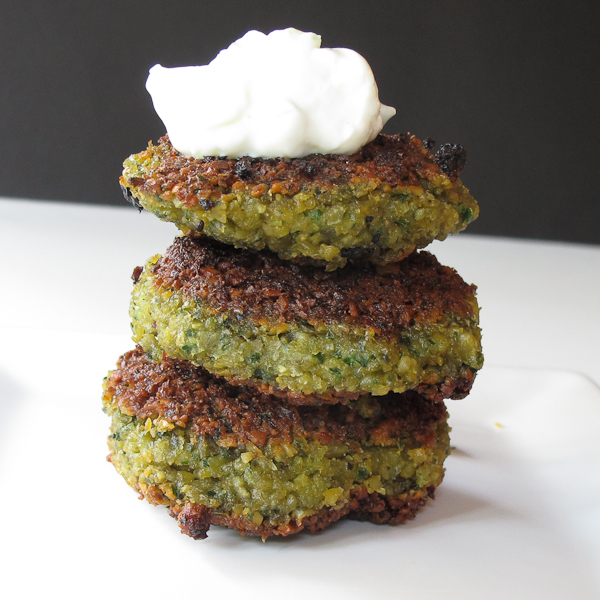 After a huge brekky Sunday morning at Skillet (more on that later this week), lunch was pretty much out of the question and even the burgers I'd planned on for dinner seemed a stretch. Then I thought, what about a veggie burger…what about falafel?
I leave the deep frying to the experts, mostly because I don't want to deal with the clean-up or saving the oil, so I knew these would be shallow-fried in a deep skillet. As much as everyone swears by the various box mixes out there, I wanted to see how dried chickpeas would do. A poster on Chowhound pointed to Mark Bittman's falafel recipe as her fave (I should have known!), and it fit the bill. Dried, not canned chickpeas, and no fillers.
Because this idea occurred to me around 2 pm, I did the quick-soak method on the chickpeas. Chickpeas go into a Dutch oven, covered by at least an inch of water, bring it to a boil, cook for 2 minutes. Cover and turn off the heat. Let sit for an hour or so. Bittman's recipe isn't skimpy on the spices, so you're going to get flavorful falafel.
In the comments section in the Times, a few people reported problems with the falafel falling apart in the pan while frying. When forming the patties, make sure they're well packed together. I still got a couple that broke while frying, but it wasn't a complete meltdown. I also used a stainless steel skillet, could have also gone cast iron, to help ensure good browning and crunchiness. And I gotta tell you, these guys still had some good crunchy bits, despite not being deep fried.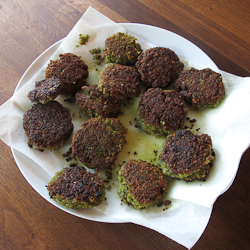 Serve with a little tzatziki and a cucumber-tomato salad dressed with a red wine vinaigrette and you're in business. Or you can do them as little appetizer bites with a dollop of the yogurt sauce.
Now, if you've got a great little falafel joint near your house, you don't need to go to trouble, but we're hundreds of miles from our favorite, Falafel's Drive-In, down in San Jose, CA. It's an institution. If you're ever in that neck of the woods, definitely get the falafel and banana shake combo. As I was making these falafel, all that was missing was their hot sauce.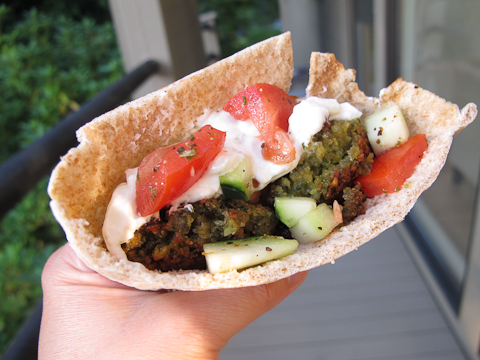 Ingredients
1/2 lb. dried chickpeas

2 cloves garlic, chopped

1 small red onion, chopped roughly

1 t. ground coriander

1 T. ground cumin

1/4 t. cayenne (or to taste)

1 c. chopped Italian parsley

1 t. salt

1/2 t. black pepper

1/2 t. baking soda

1 T. lemon juice

Canola or vegetable oil for frying
Instructions
1
Quick soak the dried chickpeas by putting them in a Dutch oven and covering with at least an inch of water. Bring to a boil and cook for 2 minutes. Cover and turn off the heat. Let sit for at least an hour.
2
Drain the chickpeas, reserving the liquid. In a food processor, pulse together the chickpeas, garlic, red onion, spices, baking soda and lemon juice until finely minced, but not pureed.
3
Form the chickpea mix into ~ 2 in. patties, making sure they're well packed together. Heat about 1/4 to 1/2 an inch of oil in a deep skillet over medium heat. When the oil shimmers, drop a small bit of the chickpea mix into the oil. It should immediately sizzle.
4
Gently place the patties into the oil and cook for 2-4 minutes until well browned. Flip and cook for an additional 2-4 minutes on the other side. Drain the patties on a paper-towel covered plate.
Notes
Adapted from Mark Bittman's Falafel