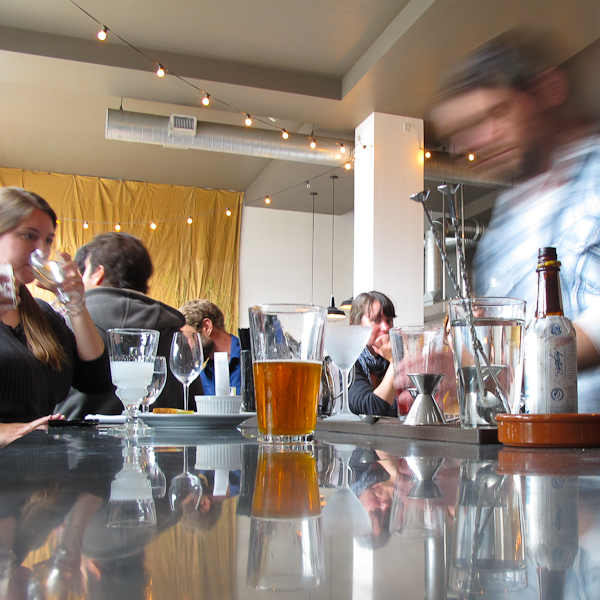 A little before 6 pm on a Friday night, Clyde Common is packed with people enjoying happy hour. It's connected to the Ace Hotel, one of the modern boutique hotels in Portland (parodied on Portlandia as the Deuce Hotel. BTW – a show worth checking out on Hulu). The dinner menu starts at 6 and I nabbed a seat against the windows, ordered a glass of the Crowley Pinot Noir from the Willamette Valley and waited. By the time I was ready for my second glass, a spot had opened up at the bar. I was flying solo as my husband had come down with something and wasn't in the mood to go out. I have no problem eating by myself, but knew it might be a challenge on a Friday night at a place with a hoppin' happy hour.
The roasted Anaheim chile appetizer is a creamy cloud of chevre on a baguette slice topped with, you guessed it, roasted Anaheim chiles. Pretty low on the Scoville scale, the Anaheims have just a touch of heat. Simple and delicious. I ate both of them. The app was followed up with the tagliatelle with asparagus, peas, spring onions, ricotta salata and walnuts. I needed some vegetables after Friday's lunch – the carnitas tacos from Taqueria El Rodeo. The veg was beautifully cooked, the walnuts added texture and crunch. My one nit would be that the pasta wasn't as tender as it could have been, it's so nice when a long noodle like tagliatelle easily loops around your fork. A small thing.
The service was good. Once I got a seat at the bar, I ordered, food came quickly and the bartenders checked back to make sure everything was fine, water refilled, etc. Fair warning, it can be loud, especially when happy hour is in full swing. With high ceilings and an open space the noise carries. I'm not sure if it's better or worse in the upstairs dining area.
The menus across lunch, happy hour and dinner are different enough that each one is probably its own experience. A single visit never gives you the full picture, but I'd definitely recommend Clyde Common for drinks and I liked it enough to want to go back and try a few more dishes (especially the fries with harissa), maybe hit it around 7 pm or so when the happy hour crowd seems to make way for the dinner crowd (no idea if this is typical, or there just happened to be a lull at the bar), and see how table service compares with the bar.
Clyde Common
1014 SW Stark St.
Portland, OR
503-228-3333
RELATED:
Portland (PDX) – Part 1: Tasty n Sons
Portland (PDX) – Part 2: Taqueria El Rodeo