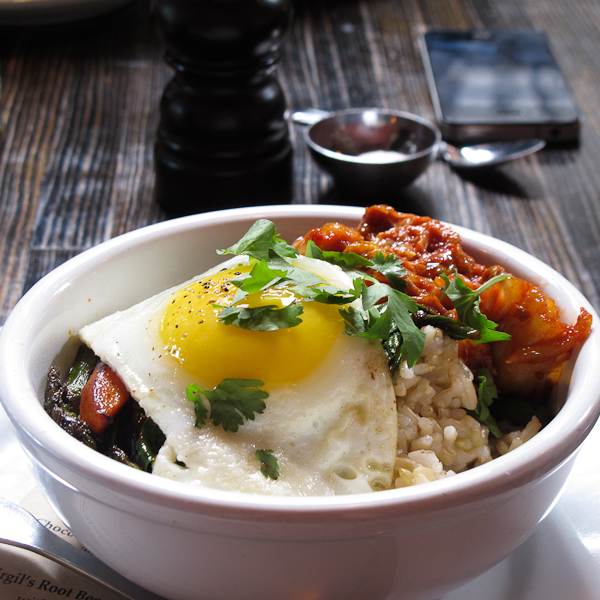 I love Tasty n Sons. So much. Because of Tasty n Sons, I've only had breakfast/brunch at one other place in Portland, because if we only have one morning open on a trip down, we are definitely going to Tasty n Sons. It's a prime example of the food excellence coming out of Portland these days — fresh, seasonal, delicious. It's an American place in the best sense of the word — along with a breakfast biscuit with egg, cheddar cheese and fried chicken or sausage, and delicious little chocolate donut holes, the menu also features a Burmese red pork stew (kind of like char siu) served eggs two ways over rice.
The brunch menu comprises both small plates and bigger ones with a good mix of sweet and savory. Their sweet biscuits with a fruit topping vary by season, this weekend it was strawberries. They've even revealed the secret to those tender little biscuits — box-grating very cold butter. It was like having strawberry shortcake for breakfast – how can that be wrong? One of the vegetable options was grilled asparagus served with an egg. They brew Stumptown coffee and serve teas from Smith Teamaker, a local purveyor.
Sharing is a good idea, you can try more dishes. Small plates run from $1.50 – 8, larger plates $5-11. Dishes also come out as they're prepared (which they warn you about), so don't expect synchronized service. On most mornings, the pacing is pretty good and works out in the wash. If you're a party of two, it's great to sit at the bar for a good view of the action in the kitchen.
Although the Burmese red pork stew is my absolute favorite, I usually try something new. On this trip, I had John's Breakfast, a sunny-side up egg served over brown rice with kim chee and vegetables (asparagus, spinach and carrots). The kim chee was salty for my taste, but the dish overall was delicious. That wasn't all. When we go to Tasty n Sons, I plan to eat, so we also had the baked cherries with taleggio. The baking intensifies the flavor of the fresh cherries into jammy goodness and melts the cheese. Sounds simple, and it is, but it's a reminder that I really should mix melty or soft cheese and baked fruit (peaches/nectarines, anyone?) for breakfast more often.
Tasty n Sons
3808 N Williams, Suite C
Portland, OR 97212
503-621-1400
Reservations for groups of 6 or more