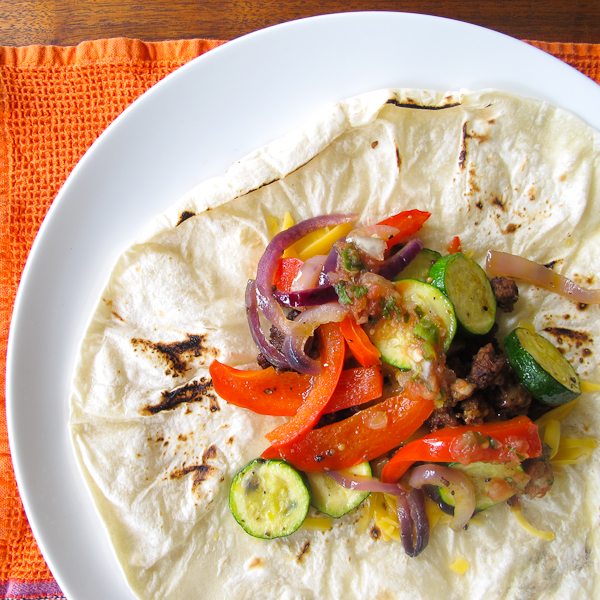 Empires have been built on packaged seasoning mixes. There are packets for everything from chili to spaghetti sauce to tacos to meatloaf. I grew up on those packets! Steadily over time, I've learned to make those dishes from scratch, but there's been a hold out, one last packet standing in my pantry — Lawry's Hot Taco.
Building a better burrito, even a gringo one, starts with the meat and its seasoning. I tried but just could not come up with the right combination of spices to duplicate or surpass the Hot Taco packet (and eliminate all the ingredients I couldn't pronounce). More salt? Was it the chili powder? Is it cocoa that's missing? What about garlic powder? Oregano? I looked it up on copycat recipe sites, I tried the taco mix from Marketspice, a great spice and tea shop in Seattle. No joy. So we just kept on with the packet for our everyday tacos and burritos. Until…

Good Eats. American Classics VIII: Tacos.
These aren't "authentic" tacos, well, I guess you could call them authentically Americanized. Either way, I think I can safely say Alton Brown's Taco Potion #19 may be the last taco seasoning recipe you will ever need. Whatever the formulations in the previous 18, number 19 hits it on the nose. I generally halve it for 1 lb. of ground beef and mix it up just before I start browning the meat. The beef broth is key. I've made it with water, a la the packet instructions, and it's ok, but get a box of beef broth. Maybe I'm overselling this, but after you've had this Taco Potion, there's no lookin' back. It's buh-bye, packet.
Ingredients
1 lb. ground beef

Half a batch of Alton Brown's Taco Potion #19

2/3 c. beef broth

2 t. olive oil

1 red bell pepper, cut lengthwise into 1/4 in. slices

1 medium zucchini, cut in 1/2 in. disks

1/2 medium red onion, cut into 1/8 in. slices

1 c. (or more) shredded cheddar cheese

1 pkg. burrito-size tortillas

Salt & pepper

Toppings

Salsa

Yogurt/Sour Cream

Avocado

Romaine lettuce
Instructions
1
In a large nonstick skillet, brown the ground beef over medium heat. Strain off any excess fat. Add the Taco Potion and beef broth. Bring to a boil, reduce heat to low and cook for 3-5 minutes, until the sauce thickens.
2
Heat another skillet over medium heat and add the olive oil. Add the peppers, onions and zucchini and saute until vegetables are softened, about 5 minutes. Season with salt and pepper.
3
Warm the tortillas, sweeping them over a gas flame until charred to your liking. Add ~1/4 c. of meat to the center of the tortilla and top with cheese, vegetables, and other toppings. Fold and you're ready to go.