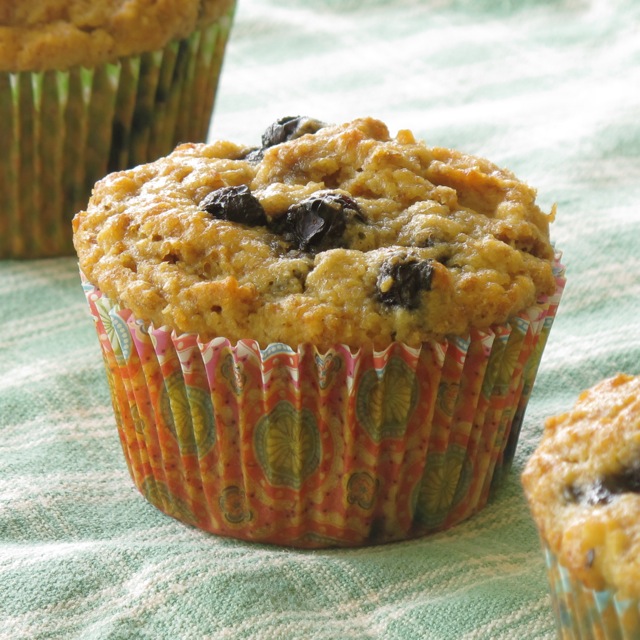 Whenever I find myself in front of the pastry case at Starbucks, I can't fool myself into thinking that the blueberry muffin is going to be a good idea…even when it's at the airport, I'm headed on vacation and letting myself eat what I want. The calories, the fat, the lack of nutritional value…it's just, if that's the route I'm going, I'd rather have a big fat glazed or sugar-raised donut over a muffin most of the time.
Add to that we're getting to that point where last year's blueberries need to be cleared out of the freezer to make room for the new crop. There had to be a compromise. What about a bran muffin? High in fiber. Blueberry bran? Not bad. Three bananas on the counter about to give up the ghost…three Bs it is — banana bran blueberry.
I did one better and used whole-wheat pastry flour on top of the bran flakes. So there it is – fiber, whole grains and fruit in a moist muffin you won't regret (too much) later.
Ingredients
1 c. ripe/overripe bananas (~2 large)

1 egg

1/2 c. milk

3 T. vegetable or canola oil

1 1/2 c. bran flakes, crushed

1 c. whole wheat pastry flour

1/4 c. brown sugar

2 t. baking powder

1/4 t. baking soda

1/4 t. salt

1 c. of blueberries, frozen (mostly medium sized)
Instructions
1
Preheat the oven to 400. Line a 12-muffin tin with paper liners (or grease it).
2
In a large measuring cup, mash the bananas. Mix in egg, milk and oil to combine. Add the bran flakes and let sit for ~10 minutes.
3
In a separate bowl, whisk together the flour, sugar, baking powder, baking soda and salt.
4
Add the banana mixture to the dry ingredients and mix until just combined. Fold in the blueberries.
5
Scoop ~1/3 c. of batter into each liner. I used an Oxo ice cream scoop (no # on it). These will not rise much.
6
Bake for 25-35 minutes. A toothpick inserted into the muffins should come out clean. Remove from the muffin tin as soon as you can handle them and let cool on a wire rack.
8
Avoid the temptation to put in too many blueberries. A little less is more in this case.