Tofu, love it or hate it, is a blank canvas for flavor. I hear you snickering over there, "Blank canvas for flavor. That stuff is BLAND." On it own, plain, it is bland, no doubt. But maybe that's why Asian cultures have been dousing it for centuries in miso, soy sauce, ginger garlic sauce, red pepper paste and whatever else  to give it a little more zip. But let's talk about that red pepper paste, aka gochujang.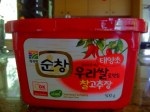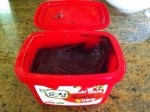 I only just discovered gochujang in the last year or so when I hit upon this recipe for Daeji Bulgogi over at Serious Eats. It comes in a red plastic tub and is a deep red, almost mahogany color. It packs a spicy punch, even though the first ingredient is not red peppers (that's #4, preceded by corn syrup, rice and water.) It's a fermented product, but doesn't have really any stinkiness to it. If anything, it just smells sweet. And sorry gluten-free eaters, I'd check the label before you dive into this. Mine at least has glutinous rice and wheat gluten as ingredients.
The Bul-tofu above is my go at Burp and Slurp's Korean BBQ tofu paired with brown rice and a tangle of stir-fried vegetables (broccoli, julienned carrot, baby bok choy, sugar snap peas). My CSA box dictated that part of it. Just stir-fry it over medium-high heat in a couple of teaspoons of canola or vegetable oil, broccoli first, with a couple of cloves of garlic sliced and about an inch of ginger, minced. Add 1/4 c. of chicken broth to help steam the broccoli, drizzle with soy sauce to taste, and cover cooking for 2-3 minutes – checking for doneness. This always seems to vary. Less is more. Add the quickest cooking veg last, for 1-2 minutes. Done.
1/31/14 update: Recipe instructions updated for clarity and to include pressing the tofu and basting halfway through and at the end of baking time.
Ingredients
1 pkg firm or extra-firm tofu

1/4 c. gochujang

6 cloves garlic, grated

1 inch knob of ginger, grated

1/2 medium onion, grated

1/3 c. soy sauce

1 T. sesame oil

1 T. brown sugar

2 green onions, cut on the bias (for garnish)

Non-stick cooking spray
Instructions
1
Preheat the oven to 450F. Line a cookie sheet with foil and spray it with non-stick cooking spray. Slice off the firm outer layer of the tofu and press it for 15-20 minutes between two plates weighted with a big can of tomatoes (or other heavy can). Slice tofu into ~1 in. cubes.
2
In a large bowl, mix together gochujang and next 6 ingredients. Add the tofu to the bowl and stir gently to coat the tofu evenly. Set aside and let marinate for 15 minutes.
3
Arrange the tofu on the cookie sheet in rows. Save the marinade for basting. Bake for 15 minutes, then turn the tofu over with tongs and brush with marinade. Bake for another 15-20 minutes. The tofu will be firm and the edges should be slightly charred. Remove the pan from the oven and baste again.
4
Serve over rice and garnish with green onions.