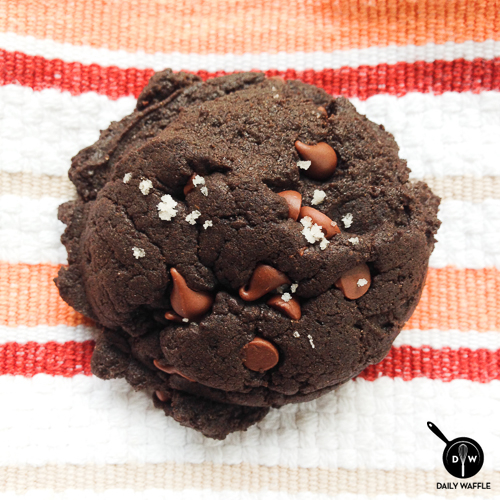 Premise: Chocolate Chocolate Chip cookies gone vegan.
Recipe: Cake Merchant's Vegan Dark Chocolate Olive Oil Sea Salt Cookies
Tweaks: I used slightly less granulated sugar (er, no I didn't measure) since I was using Pacific Foods' vanilla almond milk, which is sweetened. I also used mini chocolate chips to give these a better shot at staying intact.
It's not unusual for brownie recipes to call for oil rather than butter and the result here is somewhat similar, though not chewy.  Form-wise, these didn't really spread, so we got more of a drop cookie. I pressed the second batch flat with the palm of my hand, which made the cookie a little more dense. In the end, I preferred the drops.
Note that these are NOT gluten-free. They use regular AP flour.
Outcome: Great on its own, you could easily take this cookie base and add a little cinnamon and cayenne for a vegan version of Diablo Cookies…or add coconut  for a German chocolate cookie.