ARC provided by the author's publicist for review
The hero in Sarina Bowen's latest, Brooklynaire, is not your typical romance billionaire. Nate Kattenberger is not a type-A control freak, and you're more likely to find him in a black hoodie than a bespoke suit. Granted, he may be wearing $800 sneakers. Though Nate made his money through a software startup, he's no tech bro. Are you sold yet? He owns a hockey team and brought the sport back to Brooklyn with the Bruisers.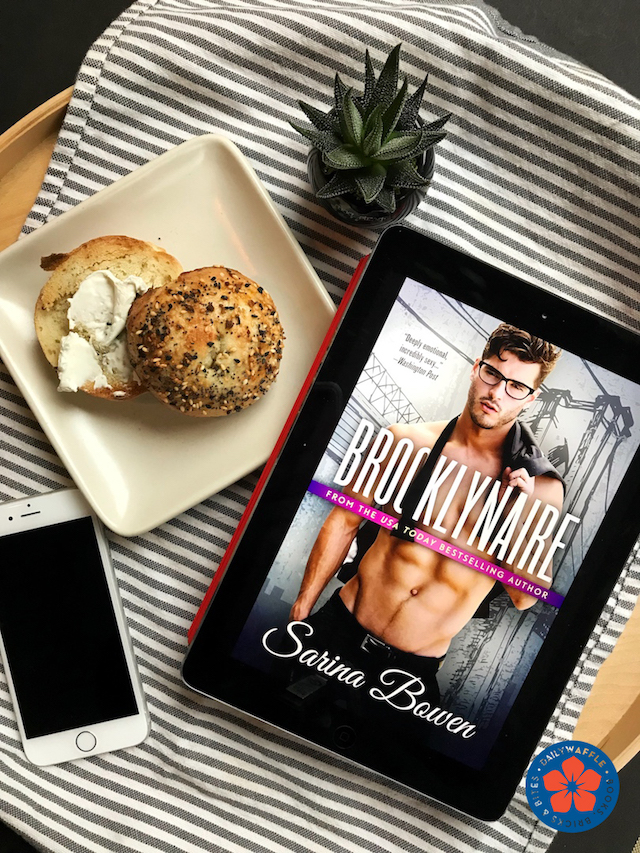 Upfront, I have to say, I've been waiting dying for Nate and Becca's story. It's a bit of a departure for the Brooklyn Bruisers series in that Nate owns the team rather than playing hockey, but still, over the course of the first 3 books it became pretty clear that there was something on a low simmer with Nate and Becca. Brooklynaire does not disappoint, slowly turning the burner up to high. (FYI, it's a standalone. Reading the rest of the series isn't required, it just adds to the enjoyment).
Nate is actually a good guy. He's kind and thoughtful, smart, and completely adorkable. He just happens to be a hot billionaire, but unlike most book billionaires, his work outside the Bruisers actually figures into the story. Surprising, right?!
The fun of Nate and Becca's relationship is that it isn't based on instantaneous attraction. It's friends-to-lovers. These two have known each other for ages, back before Nate made his fortune and was working with a team of buddies in a shabby little office. Becca whipped that office into shape and eventually moved on to managing the Bruisers office. After years of Becca looking after Nate, it's nice to have the tables turned.
There's extra swooniness in the push/pull of having put the possibility of anything on ice (sorry) long ago because they work together. The history gives their relationship a real foundation, and once they get together, you wonder how they didn't hook up sooner. Still, they both struggle with the dating the boss situation. Speaking of…
I loved that Brooklynaire was more self-aware than most books I've read where boss is dating subordinate. In the past, readers may have been willing to say, well, everyone's on board, so there's no problem. In 2018, it's a different story.  While there's never any question about consent, kudos to Brooklynaire for bringing some realism to the situation. There's a reason Becca put the possibility, hot boss aside, out of her mind all those years ago.  And she struggles even more than Nate with being the office manager dating the boss, and what that means for her reputation with her co-workers.
I've tried to keep this review from being one long squee, but you should know. Brooklynaire is by turns sweet and hot and totally swoony. It'll give you a major case of the hand-to-heart "Awwwwwws." Nate is in it to win it, and together, he and Becca are the cutest. I'm not a warm and fuzzy person, but you can't help but root for these two. That said, theirs is not a straight path to the happily ever after. Bonus points for supportive, funny female friendships in the Bruisers front office (it's in the other books, too).
We met Nate in Rookie Move, got to know him better in Hard Hitter and Pipe Dreams, and like Becca, you'll fall for him in Brooklynaire. In the end, there is something so satisfying when, billionaire or not, the nice guy doesn't finish last.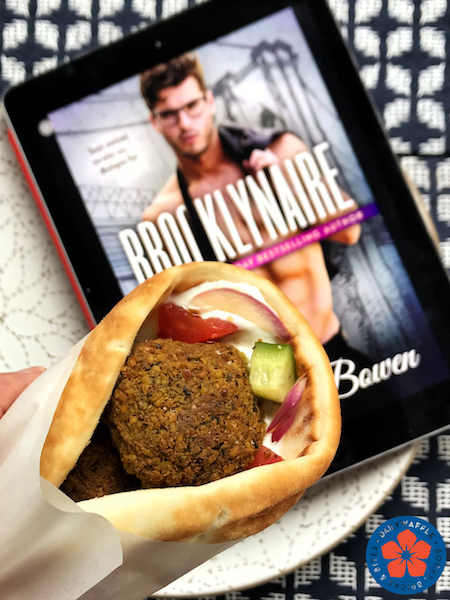 Finally, with a story set in New York, Nate and Becca have a ton of great food options. After a meeting, the two grab lunch at a falafel shop. As Becca says, "A good falafel is heaven. An indifferent falafel is a waste of carbs." So I made a batch of falafel to go with this review, you can get the recipe here. I gotta tell ya, use dried chickpeas, not canned. They make all the difference.
Read an excerpt from Brooklynaire.
Get Brooklynaire on Amazon | iBooks