Dirty. Sexy. Money.
ARC provided by the publisher via NetGalley
Andrea Dunlop's latest, She Regrets Nothing, is gloriously glitzy and glamorous. Laila Lawrence, newly orphaned, is the estranged daughter of a crazy rich New York family. When her beautiful, wealthy cousins meet her at her mother's funeral, she's a 23-year old hygienist in Michigan, dating the dentist she works for. She's all too ready to dump her boring life and take her rightful place in Manhattan. A girl like her deserves so much more.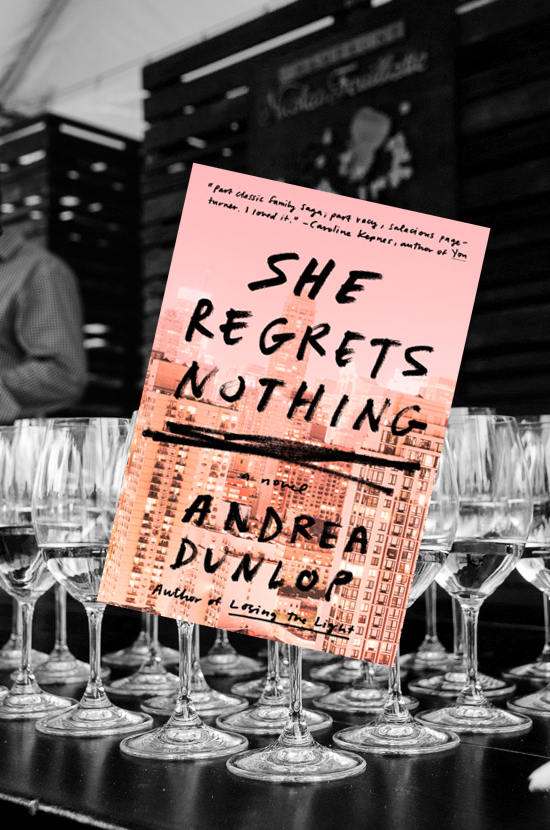 We've long been simultaneously fascinated and disgusted by the lives of the young, beautiful and ultra-wealthy. She Regrets Nothing gives us a look into a life filled with Bergdorf's shopping sprees, Veuve Cliquot by the case, and partying at nightclubs every night of the week. All built on an innate sense of entitlement that's so beautifully grotesque you can't look away. The comparison I keep hearing is to Gossip Girl.
While I can't say much about Gossip Girl, beyond how punchable Chuck Bass is, I can tell you: She Regrets Nothing is a delicious page-turner filled with characters you will love to hate.
Laila is an anti-heroine in the tradition of the best of them. She is calculating, ruthless and mercenary in a way that only the beautiful (and/or the beautiful and rich) can be. And yet, you can't help but respect her game. As Laila sees it, she's owed a life among the glitterati and she'll do whatever it takes to keep it.
Cousins Nora and Leo are the spoiled, idle wealthy, "working" on non-profit events committees and as a writer, respectively. Cousin Liberty, who works in publishing, seems to be the only one in the family with a real conscience. The ensemble is rounded out by Liberty's best friend Reece and her brother Cameron, yet another rich boy living out an extended adolescence at age 36.
Laila works her way into their world, building and burning bridges at the same time, using her wits and the few rounds of ammo she's gathered from her mother. The secrets and the ties that bind are many. Watching Laila adroitly manipulate this cast of characters is delightful. Playing the long game, she even bides her time dating an author Liberty works with, but finds that his version of New York is hardly better than what she had in Michigan. So of course, she moves on.
In the execution of Laila's story, Andrea Dunlop expertly shines a light on some of the ugliest truths in today's society: the divide between the haves and have-nots is getting ever wider; youth and beauty are power; money shields its bearers from consequences; and even maybe, that opportunism and blackmail, not hard work, are the shortest path to living the dream. It's the underpinning of a family drama that tickles your nose and goes down like good champagne, and yet gives you one hell of a book hangover. Worth it. 4 stars.
Andrea Dunlop's She Regrets Nothing book tour starts Wednesday night in Seattle and continues on to Los Angeles, San Francisco, Toronto and New York.
Read an excerpt from She Regrets Nothing.
Get it on Amazon | iBooks | the Ripped Bodice