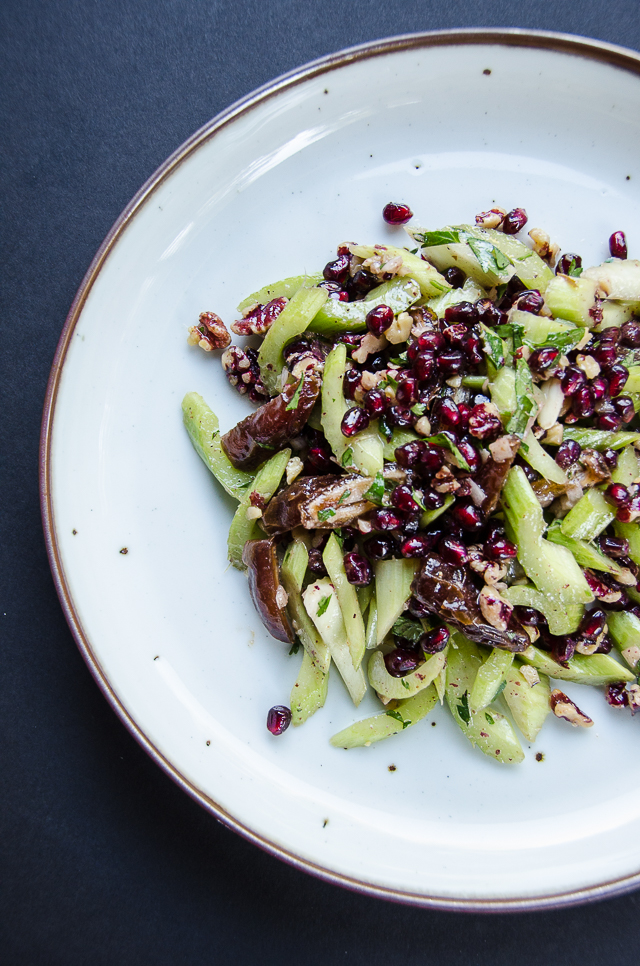 We've reached that point in the winter where I'm just about to my limit with kale salads. I had to go in a completely different direction, but still wanted a distinct crunch. The answer was obvious and not-so-obvious at the same time: celery. I've made a celery salad before with honeycrisp apple, and while delicious, it wasn't all that appealing to the eye. This salad — this celery salad with pomegranate, walnuts and dates — is actually pretty and tasty.
Celery is underappreciated, just ask the folks on Portlandia. You chop it up for soup, maybe slather some peanut butter on it, but there's more to do with celery. I think more people would actually enjoy it if you bought it organic. It's still salty, but it doesn't have that metallic tang conventionally grown celery can have.
Standard walnuts will work fine, but I discovered red walnuts the other day at Trader Joe's. They're less bitter than your typical walnut and add nice color to the salad. Worth seeking out.
Celery Salad with Pomegranate, Walnuts and Dates
Print Recipe
Ingredients
4 stalks celery, trimmed and then cut on the bias into 1/2 inch pieces

1/3 c. pomegranate arils

6 dates, pitted and quartered

1/2 c. red walnuts, toasted and roughly chopped

2 T. Italian parsley, finely chopped

1 T. pomegranate vinegar

1 T. olive oil

1 T. walnut oil

1/4 t. sumac

pinch of salt

black pepper
Instructions
1
In a jar with a tight fitting lid, combine the pomegranate vinegar, olive oil, walnut oil, sumac, salt and a few cracks of black pepper. Shake vigorously until the dressing is emulsified.
2
In a large bowl, toss together the celery, dates, walnuts and parsley. Drizzle with the dressing and toss again.
3
Arrange on a serving dish and top with pomegranate arils.