Looking into 2018, I'm planning on the same reading goal I had last year: 52. One book for each week of the year. 2017 was a year I escaped into books and if my most anticipated list is any indication, 2018 will be pretty much the same.  Romance and thrillers are dominating the list at this point. Here's a look at my 2018 most anticipated reads for the first six months, January to June.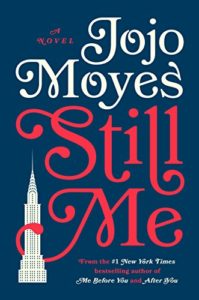 STILL ME – JoJo Moyes (January 30) 
Louisa Clark arrives in New York ready to start a new life, confident that she can embrace this new adventure and keep her relationship with Ambulance Sam alive across several thousand miles. She is thrown into the world of the superrich Gopniks: Leonard and his much younger second wife, Agnes, and a never-ending array of household staff and hangers-on. Lou is determined to get the most out of the experience and throws herself into her job and New York life within this privileged world.
Before she knows what's happening, Lou is mixing in New York high society, where she meets Joshua Ryan, a man who brings with him a whisper of her past. In Still Me, as Lou tries to keep the two sides of her world together, she finds herself carrying secrets–not all her own–that cause a catastrophic change in her circumstances. And when matters come to a head, she has to ask herself Who is Louisa Clark? And how do you reconcile a heart that lives in two places?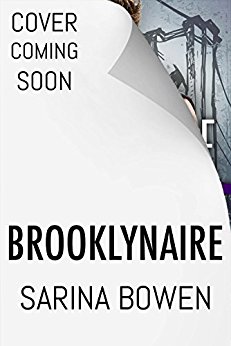 Brooklynaire – Sarina Bowen (February 12)
In Sarina Bowen's Brooklyn Bruisers hockey series, Nate Kattenberg is the tech wunderkind owner of the team. He comes in and out of the stories, but over the course of Rookie Move, Hard Hitter and Pipe Dreams, it became clear that Nate and Becca needed their own story. Brooklynaire is that book.
You'd think a billion dollars, a professional hockey team and a six-bedroom mansion on the Promenade would satisfy a guy. You'd be wrong.
For seven years Rebecca has brightened my office with her wit and her smile. She manages both my hockey team and my sanity. I don't know when I started waking in the night, craving her. All I know is that one whiff of her perfume ruins my concentration. And her laugh makes me hard.
When Rebecca gets hurt, I step in to help. It's what friends do. But what friends don't do is rip off each others' clothes for a single, wild night together.
Now she's avoiding me. She says we're too different, and it can never happen again. So why can't we keep our hands off each other?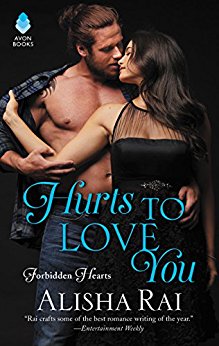 Hurts to Love You – Alisha Rai (March 27)
Amazon | iBooks |the Ripped Bodice
Heiress Evangeline Chandler knows how to keep a secret . . . like her life-long crush on the tattooed hottie who just happens to be her big brother's friend. She's a Chandler, after all, and Chandlers don't hook up with the help. Then again, they also don't disobey their fathers and quit their respectable jobs, so good-girl rules may no longer apply.
Gabriel Hunter hides the pain of his past behind a smile, but he can't hide his sudden attraction to his friend's sheltered little sister. Eve is far too sweet to accept anything less than forever and there's no chance of a future between the son of a housekeeper and the town's resident princess.
When a wedding party forces Eve and Gabe into tight quarters, keeping their hands off each other will be as hard as keeping their clothes on. The need that draws them together is stronger than the forces that should shove them apart . . . but their sparks may not survive the explosion when long-buried secrets are finally unearthed.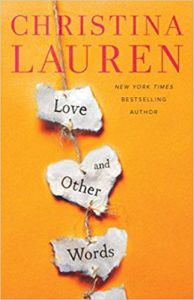 Love and Other Words – Christina Lauren (April 10)
Amazon |iBooks| the Ripped Bodice
Macy Sorensen is settling into an ambitious if emotionally tepid routine: work hard as a new pediatrics resident, plan her wedding to an older, financially secure man, keep her head down and heart tucked away.
But when she runs into Elliot Petropoulos—the first and only love of her life—the careful bubble she's constructed begins to dissolve. Once upon a time, Elliot was Macy's entire world—growing from her gangly bookish friend into the man who coaxed her heart open again after the loss of her mother…only to break it on the very night he declared his love for her.
Told in alternating timelines between Then and Now, teenage Elliot and Macy grow from friends to much more—spending weekends and lazy summers together in a house outside of San Francisco devouring books, sharing favorite words, and talking through their growing pains and triumphs. As adults, they have become strangers to one another until their chance reunion. Although their memories are obscured by the agony of what happened that night so many years ago, Elliot will come to understand the truth behind Macy's decade-long silence, and will have to overcome the past and himself to revive her faith in the possibility of an all-consuming love.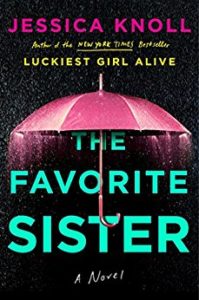 The Favorite Sister – Jessica Knoll (May 15)
When five hyper-successful women agree to appear on a reality series set in New York City called Goal Diggers, the producers never expect the season will end in murder…
Brett's the fan favorite. Tattooed and only twenty-seven, the meteoric success of her spin studio—and her recent engagement to her girlfriend—has made her the object of jealousy and vitriol from her castmates.
Kelly, Brett's older sister and business partner, is the most recent recruit, dismissed as a hanger-on by veteran cast. The golden child growing up, she defers to Brett now—a role which requires her to protect their shocking secret.
Stephanie, the first black cast member and the oldest, is a successful bestselling author of erotic novels. There have long been whispers about her hot, non-working actor-husband and his wandering eye, but this season the focus is on the rift that has opened between her and Brett, former best friends—and resentment soon breeds contempt.
Lauren, the start-up world's darling whose drinking has gotten out of control, is Goal Diggers' recovery narrative—everyone loves a comeback story.
And Jen, made rich and famous through her cultishly popular vegan food line plays a holistic hippie for the cameras, but is perhaps the most ruthless of them all when the cameras are off.
The Favorite Sister explores the invisible barriers that prevent women from rising up the ranks in today's America—and offers a scathing take on the oft-lionized bonds of sisterhood, and the relentless pressure to stay young, relevant, and salable.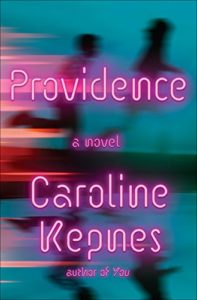 Providence – Caroline Kepnes (June 19)
Best friends in small-town New Hampshire, Jon and Chloe share a bond so intense that it borders on the mystical. But before Jon can declare his love for his soul mate, he is kidnapped, his plans for a normal life permanently dashed.
Four years later, Chloe has finally given up hope of ever seeing Jon again. Then, a few months before graduation, Jon reappears. But he is different now: bigger, stronger, and with no memory of the time he was gone. Jon wants to pick up where he and Chloe left off . . . until the horrifying instant he realizes that he possesses strange powers that pose a grave threat to everyone he cares for. Afraid of hurting Chloe, Jon runs away, embarking on a journey for answers.
Meanwhile, in Providence, Rhode Island, healthy college students and townies with no connection to one another are suddenly, inexplicably dropping dead. A troubled detective prone to unexplainable hunches, Charles "Eggs" DeBenedictus suspects there's a serial killer at work. But when he starts asking questions, Eggs is plunged into a whodunit worthy of his most outlandish obsessions.
With an intense, mesmerizing voice, Caroline Kepnes makes keen and powerful observations about human connection and how love and identity can dangerously blur.
###
(UPDATED 1/8/17 with the official synopsis for Sarina Bowen's Brooklynaire).