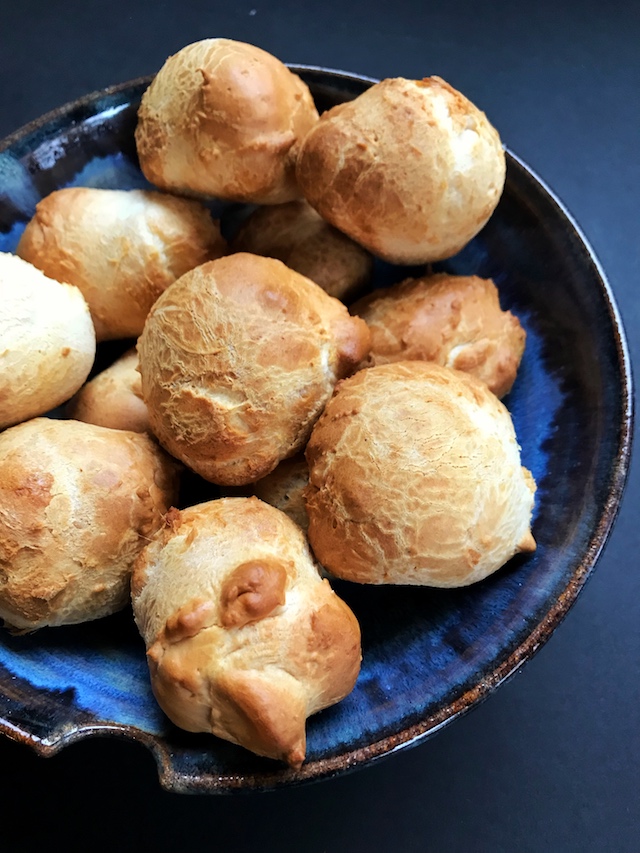 Inspired by Acacia Santos, the heroine in Sylvain Reynard's new romantic suspense novel, The Man in the Black Suit, I made pão de queijo, or Brazilian cheese bread. Authentically made with sour cassava flour, the best I could do on short notice was tapioca flour from Bob's Red Mill, and still the result is pretty darn tasty. After doing a bit of Googling, I decided to try two different methods — a really easy one that was more like making popovers, and another that was similar to the method for cream puffs or gougéres.
The cream puff method was the winner. It requires a little bit more work and a stand mixer, but it's worth it. The outsides of the puffs are crunchy, the insides are chewy, and since they're made with tapioca flour, they are indeed gluten-free.
I'd never heard of pão de queijo before reading the book, but they have a long history in Brazil and are usually eaten at breakfast with coffee. But there are no hard and fast rules. I'm thinking you'll want to put them on your New Year's Eve menu.
Ingredients
1 cup whole milk

1/2 cup vegetable oil

1 t. salt

10 ounces tapioca flour or sour cassava flour (about 2 cups)

2 large eggs

1 to 1 1/2 cups grated Parmesan cheese
Instructions
1
Preheat the oven to 450F*. Line two baking sheets with parchment paper or Silpats and set aside.
2
In a medium sauce pan, combine the milk and oil and bring it just to a boil over medium heat, stirring occasionally.
3
Take it off the heat and stir in the tapioca flour using a wooden spoon. The dough will be dry and slightly chunky.
4
Transfer the dough to the bowl of a standing mixer with the paddle attachment. Beat the dough on medium speed for 2-3 minutes until it smooths out and becomes elastic. It's cool enough when you can press your fingers against the dough for a few seconds.
5
Add the eggs one at a time with the mixer on medium speed. Allow each egg to be fully incorporated before adding the next.
6
Add in the cheese with mixer on medium speed, until completely incorporated. The dough will have a consistency between cake batter and cookie dough.
7
Scoop the dough using a small ice cream scoop and arrange them on the prepared baking sheet, 12 to a sheet. Dip the scoop in a bowl of water between dough balls to prevent sticking.
8
To bake, place the baking sheets in the oven and reduce the heat to 350°F. Bake for 15 minutes. Rotate the baking sheets between racks and from front to back. Bake until the outsides are dry, and the puffs are starting to brown, 10 to 15 minutes more. Allow to cool for a few minutes, then eat warm.
9
*My oven can be finicky, you can also do these on convection at 425F.
Notes
Adapted from theKitchn: https://www.thekitchn.com/how-to-make-po-de-queijo-brazilian-cheese-bread-cooking-lessons-from-the-kitchn-176118