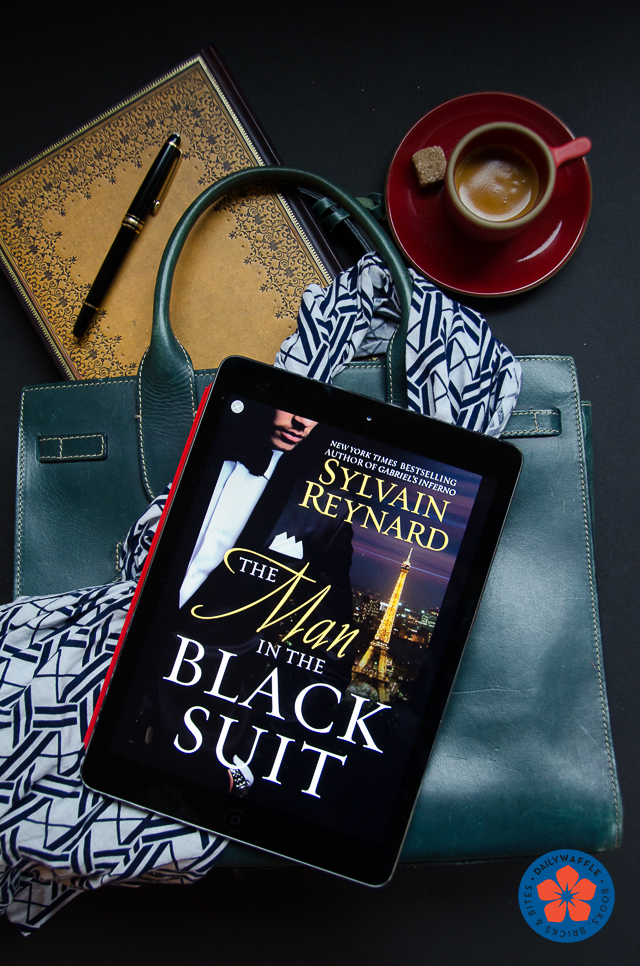 The Man in the Black Suit, Sylvain Reynard's latest, may have just turned me into a romantic suspense reader. It's an irresistible escape from real life, with art, intrigue and sexy European locales. Nicholas Cassirer is intent on avenging his sister and reclaiming the stolen artwork she died for. He finds himself at the Hotel Victoire in Paris, enlisting the help of hotel concierge Acacia Santos, a woman who's more than meets the eye herself.  Acacia is Brazilian, speaks several languages and studied art, but prefers to remain virtually invisible for her own reasons.
The thing that attracted me to The Man in the Black Suit is the same thing set Reynard's work apart from the earliest days: a scholarly affinity for art, plus romance. But this time, suspense is in the mix. It's like The Blacklist, with more romance. The Man in the Black Suit's got action, worldwide crime networks, a shadowy villain and takes you to several international locations. And in what might be a surprising twist, it doesn't shy away from real world issues about xenophobia, racism, and relationships complicated by religious and political history. If that has you saying, "Oh god, I read to escape, that's too heavy," don't fret. They're simply facts of the lives these well-drawn characters are living.
Acacia is a grown woman with her own life. Her job serves its purpose, she has an ex who's still lingering on the fringes and she's got a hilarious best friend who lives across the hall in her building. (Kate goes above and beyond in the BFF role, I'd actually love to read this story from her perspective). Though she has her own secrets, Acacia is also meant to be the moral compass in this story. It works when she's making sound decisions, e.g. not getting involved with Nicholas while she's his employee, or when she's trying to convince him revenge won't bring back his sister. But at other times, she's too much.  A little too much. 
On the romance front, it's a bit of a slow burn. The attraction surfaces, and clearly Nicholas is going out of his way to help Acacia.  She's determined to keep things professional while in his employ. Eventually the professional turns personal. It takes awhile, but once it's on for these two, it's on.
I couldn't help but be caught up as Nicholas and Acacia travel the world in pursuit of the team who killed Nicholas' sister and stole the art. When you find out what Acacia's been keeping quiet, I'm pretty sure you'll be surprised. I know I was.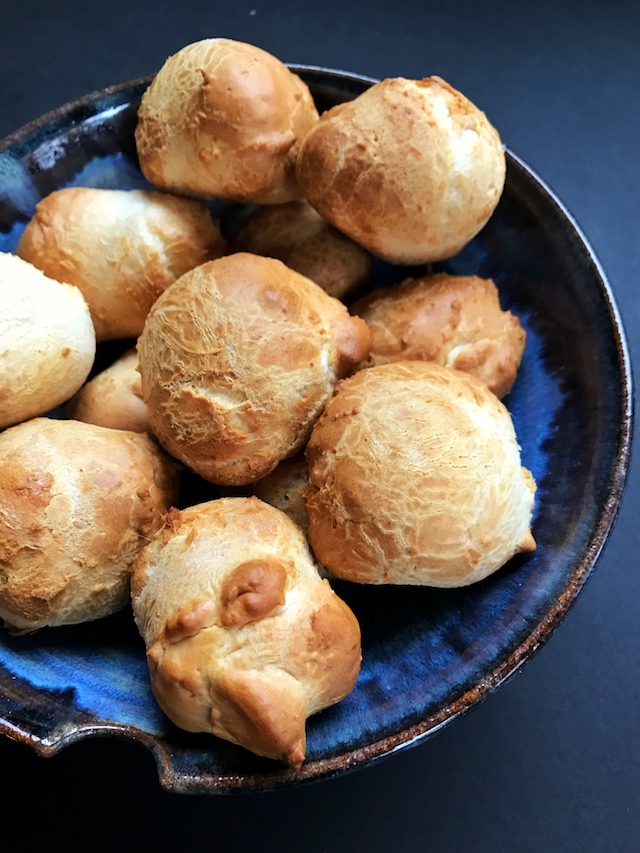 A final note: In The Man in the Black Suit,  Acacia makes pão de queijo, Brazilian cheese bread, twice in the book. You know me, I can make anything about food. I'd never even heard of pão de queijo, but hello Google. These little rolls, made with tapioca or cassava flour, are crunchy on the outside, chewy on the inside. And they're gluten-free!  I actually tried two different methods, one more like a popover, and one more like cream puffs, where you heat milk and oil and stir in the flour with a wooden spoon. Get the recipe.
The Man in the Black Suit is available on Amazon| iBooks | Kobo | Barnes & Noble (Nook)