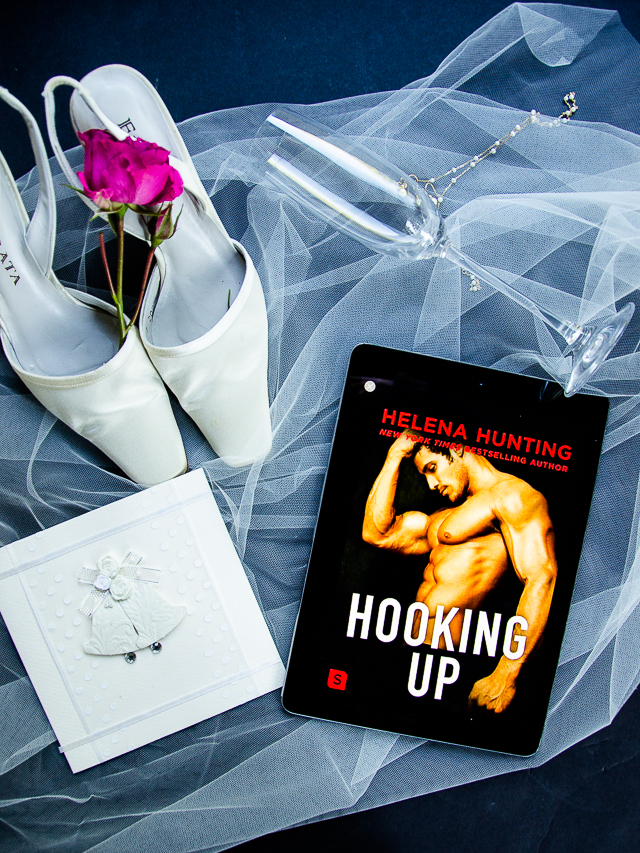 ARC provided by the publisher for review.
Can we talk about Helena Hunting's newest, Hooking Up?  Sometimes you just need a book that'll let you get away from it all. Hooking Up was the escape I needed from more serious reads. It's hot, hilarious fun, that leaves you happy with where things end up. 4 stars.
Amalie Whitfield's story begins on her wedding day, and it's going nothing like the way she planned. Her new husband, Armstrong, is caught in a, shall we say, extremely compromising position with one of the wedding guests. It's bad decision-making all around, but of course, Armstrong gets off easy and somehow it's on the woman he was caught with to shoulder the shame, ridicule and media scrutiny. To stick it to Armstrong and avoid the gossip at home, Amie goes on their honeymoon trip with plans to find a Hookup Hottie on the island.
Boy, does she find one.  Their affair is torrid to say the least. Hooking Up is h-o-t hot. If you're a reader who likes romances on the racy side, Hooking Up is for you. If you're a more demure reader,  Amie will seem pretty scandalous, but that's the fun. From the moment Amie steps foot in the airport, the old Anarchy Amie is back in full effect.  The airport is also where one of the funniest scenes in the book takes place, I was cry-laughing (laugh-crying?) and cringing all at the same time.
The thing I can't quite figure out about Amie is how she ended up with her cheating husband in the first place. The book tells you it's because she was a rebellious teenager and some of that bad behavior spilled over into her 20s. Marrying Armstrong was part of being less of a disappointment and a "better, less rebellious version of myself." All I can tell you is, she had some serious blinders on not to notice this guy was a stereotypical, richy-rich douchebag. She never noticed his manipulative, competitive side?
Hooking Up is a standalone that exists in the same universe as Shacking Up. Ruby and Bancroft (the names in the Mills family are something else, I kept hoping for a Huntington), make appearances but you don't need to have read it to follow what's happening. Ruby and Amie have a great friendship and you get a good dose of it in Hooking Up, which is awesome.
Hooking Up is out now, you can read an excerpt here.  For more from Helena Hunting, check out her back catalog.
Fave line: Oh god, the airport scene. The whole thing.
Get Hooking Up on Amazon | iBooks|