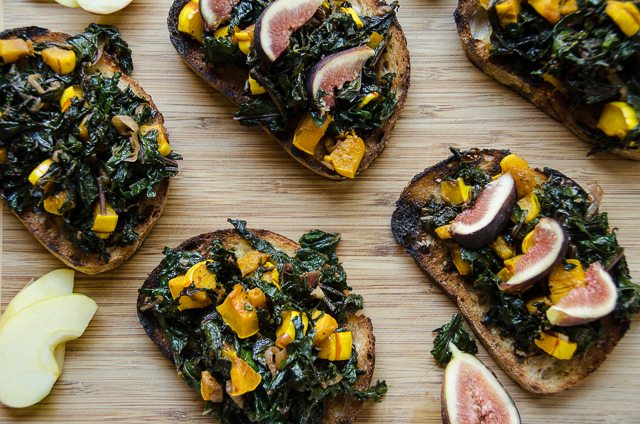 This balsamic delicata squash and kale mixture is what to eat now. Are you ready for kale? It's been a gorgeous long summer of tomatoes and cucumbers and peppers and whatever else, but now I feel it. The chill is in the air, the flannel shirts are out of their long sleep, it's time. It just is.
Of course, as I say this, I'm sauteing some peppers to go in burritos tonight. That's shoulder season for you. Sometimes that's the best of both worlds. What's great about this delicata squash and kale is its delicious as a side dish or on grilled toast rubbed with garlic. Toss it with pasta. This week, I'm going the crostini route.
The folks at Melissa's Produce sent over a grab bag of produce, including some gorgeous heirloom figs and shallots. It was a little like having my own Chopped basket, and off I went on some new recipes.
I used a procedure I've long used on collard greens, minus the bacon. Saute freshly washed greens in oil, add the pepper flakes (this time I used gochugaru), the vinegar and season them well. No reason you can't add bacon, I just didn't. It's totally delicious on it's own. I used red Russian kale since it's what the guys at Steelwheel Farm had at our last farmers market, but it works great with lacinato/dino kale and/or a mix of both.
The figs add a gorgeous sweetness, get 'em if you can.
Ingredients
1 delicata squash, about 1/2 lb., cut into 3/4 inch cubes

3 garlic cloves, divided (mince 2 and cut the last one in half)

1 bunch of red Russian kale (a mix of lacinato and red Russian works well, too), rinsed, stems removed & cut into 3/4 inch ribbons

2 T. oilve oil, divided

2 large shallots, thinly sliced

2 T. balsamic vinegar

1/2 t. Korean chile flakes (gochugaru) or Italian red pepper flakes

2-3 T. water, if needed

6 slices of Italian bread, grilled

4-5 black figs, halved, each half sliced in thirds

Kosher salt and pepper
Instructions
2
In a large bowl, toss delicata squash cubes with 1 T. olive oil. Season with salt and pepper. Arrange on a baking sheet in a single layer and roast in the oven, until a knife goes in easily, about 10-15 minutes. Start checking at 10 minutes. Set aside.
3
In a large skillet, heat 1 T. olive oil over medium high heat. Add the shallots and saute until lightly browned. Add the garlic and cook for ~ 30 seconds. Add the kale in batches, as it cooks down, about 3-5 minutes. Season with salt and pepper. Drizzle with water, a tablespoon at a time, if needed.
4
Add chile flakes and balsamic vinegar and cook for 2-3 minutes.
5
Add the squash and cook just until warmed through.
6
Rub the grilled bread slices with the remaining garlic clove.
7
Arrange the grilled bread slices on a serving platter and top with ~1/2 c. of kale-squash mixture. Garnish with 2-3 slices of fig.