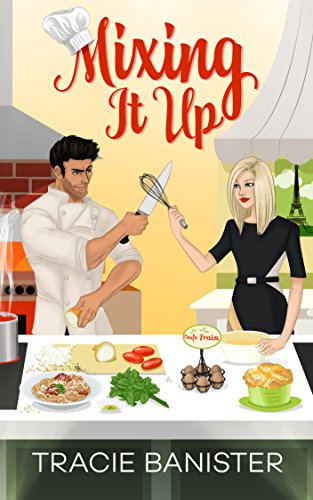 **Book provided by the author for review**
In Mixing it Up, Cecily Sinclair is living the dream — she's a Cordon Bleu-trained chef with her own Cable TV cooking show, Serving Romance. After the network is acquired by another media conglomerate, Cecily keeps her job, but the show undergoes a major makeover as the network tries to appeal a younger audience. She's paired with Dante Marchetti, a handsome Italian chef who knows how to play to the camera. They have history (strictly professional) and Cecily is gritting her teeth to get through every day.
You'll love or hate Cecily. She's a foodie know-it-all from a blue blood family where comportment is everything. Coarse language and behavior is not tolerated. She's compelled to tell you she first read this or that in French. In a world that wants her to be Dolce and Gabbana on TV, Cecily is staid and classic St. John all the way. She explains cooking terms and foods ad nauseam. It helps to bring in readers who aren't super foodies and at the same time underscores her show-off gene.
Dante Marchetti couldn't be more opposite. He's larger than life, almost a caricature of the flirty Italian chef who uses his accent to his advantage and plays to the camera. He has an enormous amount of fun making Cecily uncomfortable. But don't get any ideas. Dante isn't the only guy in Cecily's orbit. The new network head is a wunderkind named Devlin Hayes, and there's an ex named Bryce.
I really wanted this to be a Choose Your Own Adventure story. I kept waiting for something or someone to shake up Cecily. As she and Dante navigate through their new show and the relaunch of the network, her journey could have gone in two or three totally different directions: fall in love/hate with co-host Dante, fall in love with network boss Devlin Hayes, or fall in love with no one at all and go cook in France.
When she's finally pushed to her limit on the show, she goes big. That was when I cheered for her. Then pages later, I was shaking my head. I felt a little like a souffle reading Mixing it Up, gradually climbing the sides of my dish, rising to a light, airy, golden brown top. Then someone opened the oven door mid-bake. The results were tasty enough, but I felt deflated.
If you enjoy books by Sophie Kinsella, Lucy Parker, or even Helen Fielding, you might enjoy Tracie Banister's Mixing It Up.  The story is focused on the heroine, emphasizes romance rather than sex and includes a kooky family. The writing and food details are solid, the arc is well-thought-out, but it's weighed down by a need to deliver a happily ever after for a heroine who'd be better served making her happily ever after on her own. 3 stars.
Best line: "Golfing isn't an obsession for me; it's a way of life. It's my raisin de Tetris."