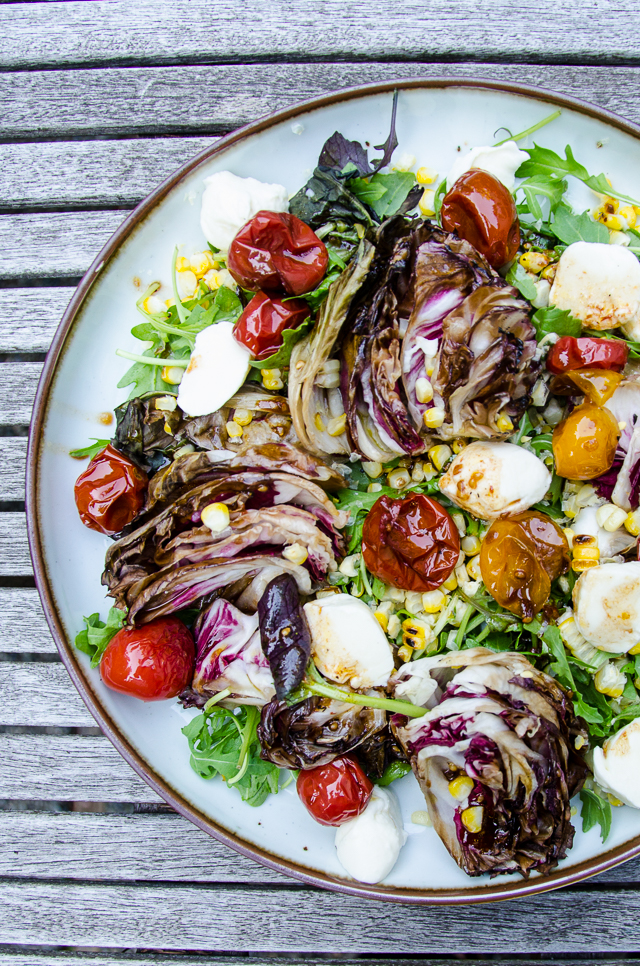 I've made a good number of salads this summer, some simple, some complex. This grilled radicchio and corn number falls somewhere in the middle and it might be my favorite one so far. It features a roasted cherry tomato vinaigrette and creamy fresh mozzarella along with the grilled veg. The recipe is adapted from Around the Fire by Greg Denton and Gabrielle Quinonez Denton, chef/owners of Portland's Ox Restaurant.
The beauty of this recipe is that the grill tempers the bitterness of the radicchio and concentrates the sweetness of corn. Roasting the tomatoes for the dressing doesn't take long, and even on a hot summer night, it's worth it.
If you nabbed tickets to Night Market during this year's Feast Portland, you'll be able to get a taste of Ox's grill-centric fare.
Grilled Radicchio and Corn w/ Roasted Tomato Vinaigrette
Print Recipe
Ingredients
Roasted Tomato Vinaigrette

1 pint cherry tomatoes

3/4 c. olive oil

2 t. kosher salt

1/2 c. balsamic vinegar

1/2 t. ground black pepper

Radicchio and Corn Salad

2 radicchio heads, quartered

4 ears corn, husked

1/2 c. olive oil

kosher salt and pepper

4 c. arugula

6-8 ciliegini (mini fresh mozzarella), halved
Instructions
1
Preheat the oven to 400F.
2
Toss the tomatoes with 2 T. olive oil, sprinkle with 1 t. salt and spread the tomatoes on a baking sheet. Roast for 12-15 minutes.
3
Whisk together the vinegar, remaining 10 T. olive oil and 1 t. salt, and ground pepper. Add the roasted tomatoes and toss gently. Set aside and let sit for 10 minutes.
4
Prepare a grill to medium-high.
5
Drizzle the radicchio and corn with olive oil and toss to ensure the vegetables are evenly covered. Season with salt and pepper. Grill the corn, turning occasionally, until the ears are just charred, about 10 minutes. Let cool, then slice the kernels off the cob.
6
Grill the radicchio with cut side down, 3-4 minutes until the leaves just start to wilt and char. Turn to the other cut side and repeat. Remove from the grill and let cool slightly. Slice away the cores to free the leaves.
7
Arrange the arugula and radicchio on a large serving platter, top with corn kernels and ciliegini. Drizzle the vinaigrette over the top and place the tomatoes throughout.
Notes
Adapted from Around the Fire by Greg Denton and Gabrielle Quinonez Denton.