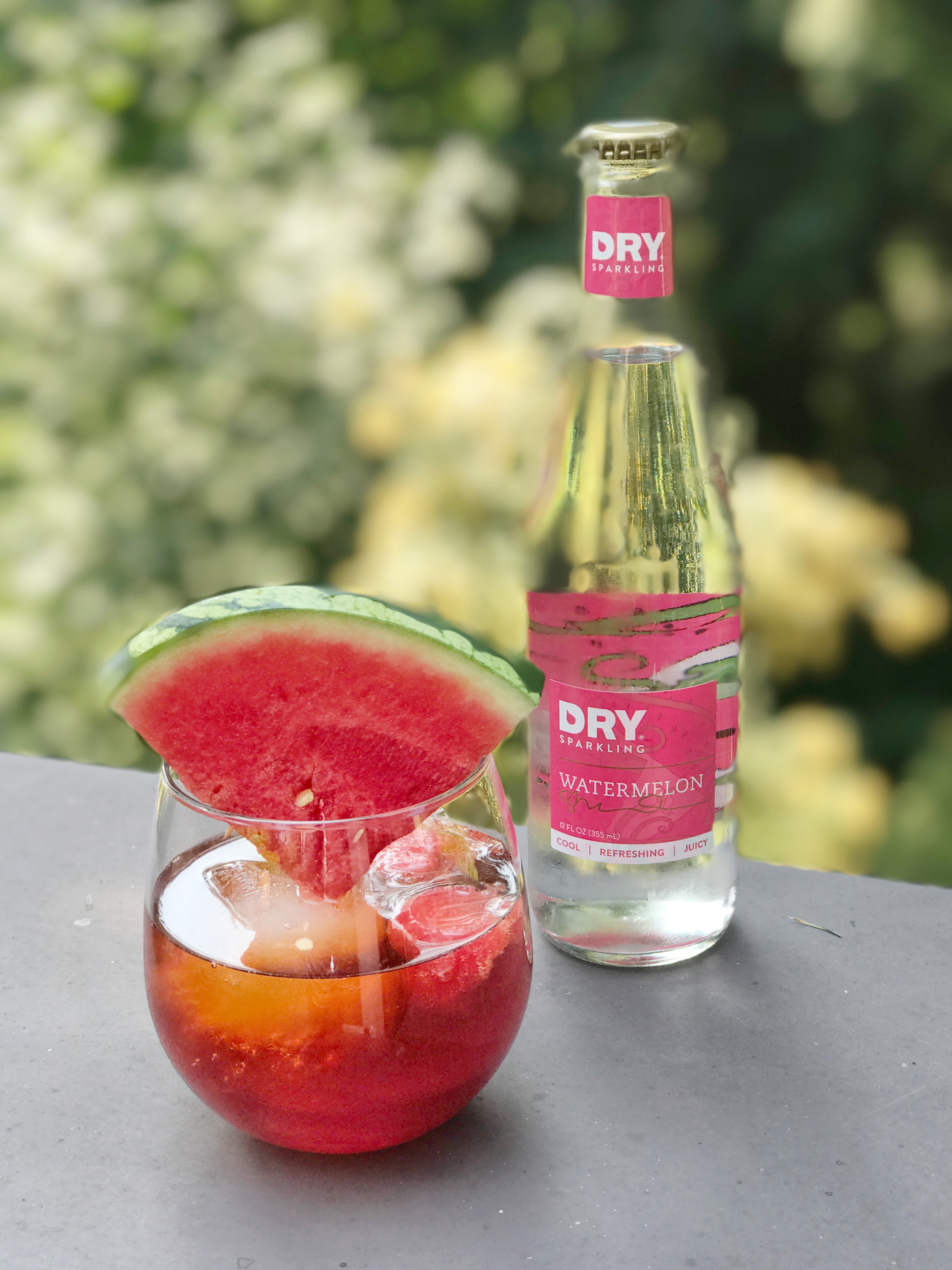 It's National Watermelon Day and we're in the midst of a heatwave. Other than a cold slice of watermelon, the thing I'll be looking forward to at the end of the day is a watermelon cocktail.  This riff on the Americano combines Campari, sweet vermouth, bottled watermelon juice and Dry Sparkling Watermelon. Proportions are dialed back from the traditional Americano to allow the watermelon flavors to shine. The result is refreshing and relatively low alcohol, perfect for a hot summer day.
On the watermelon juice front, I picked up a sixer of Wtrmln WTR at Costco yesterday. Whole Foods also has a 2 for $5 sale on Wtrmln WTR, today through August 6.  Trader Joe's also carries bottled watermelon juice in their refrigerated section. Or you can make your own by whizzing up watermelon chunks in a blender and adding a squeeze of lemon juice.
Watermelon Dry Sparkling is a taste of summer on its own, so if a cocktail isn't your thing, it's still worth seeking out. Find Dry Sparkling near you by checking out http://www.drysparkling.com/find-dry/.
Ingredients
1/2 oz. Campari

1/2 oz. Punt e Mes (or other sweet vermouth)

1 oz. Wtrmlnwtr (bottled watermelon juice)

4 oz. Dry Sparkling Watermelon

Ice

Watermelon wedge and/or balls for garnish (optional)
Instructions
1
In a rocks glass, combine Campari, Punt e Mes and Wtrmlnwtr. Add ice. Pour over Dry Sparkling watermelon and stir. Garnish with watermelon wedge or balls, if using.