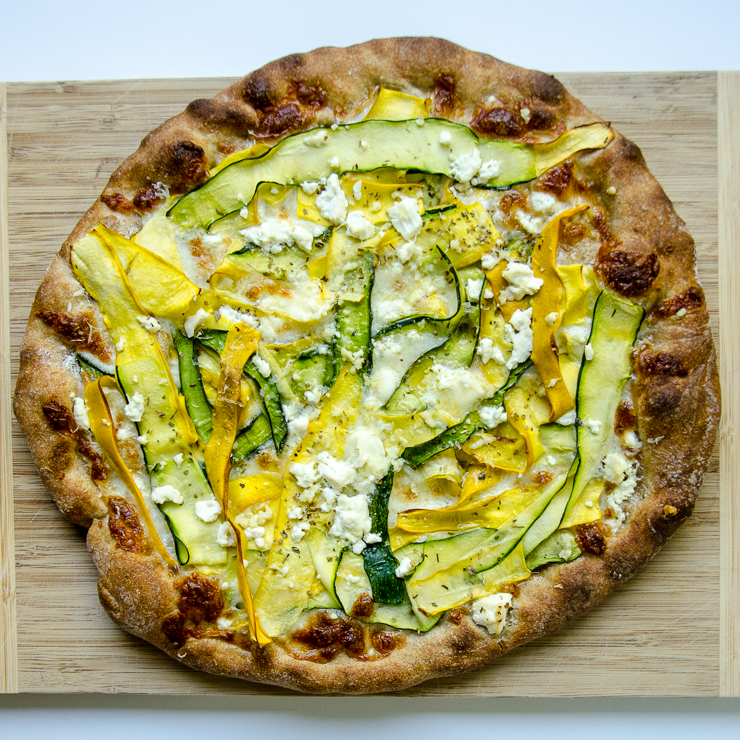 We're deep in the heart of the summer and zucchini is getting cheaper every week. We're talking 99 cents a pound cheap. And if you've got a neighbor growing zucchini, it might just be free. This zucchini pizza with feta and garlic was inspired by Yotam Ottolenghi's latest Guardian column in which he celebrates his love for the courgette. Zucchini haters usually complain that it's bland, so a combination of mozzarella, Pecorino Romano and feta cheese boosts this pizza top to bottom. We finish it off with freshly microplaned garlic. Put all of that on a whole wheat Trader Joe's crust and this pizza is practically healthy.
A couple of notes: Zucchini can be pretty watery, so salting the ribbons helps to draw out the liquid. It's a key step to ensure the thing doesn't sog out. A mix of green and yellow squash makes for a pretty pizza, but whatever you can get works. Taking a page from Chris Bianco's new BIANCO book (read our review here), instead of going with a traditional tomato sauce, the crust is drizzled with olive oil and layered with mozzarella and Pecorino on the bottom. It's a pie perfect for Meatless Monday and for the vegetarians in your life.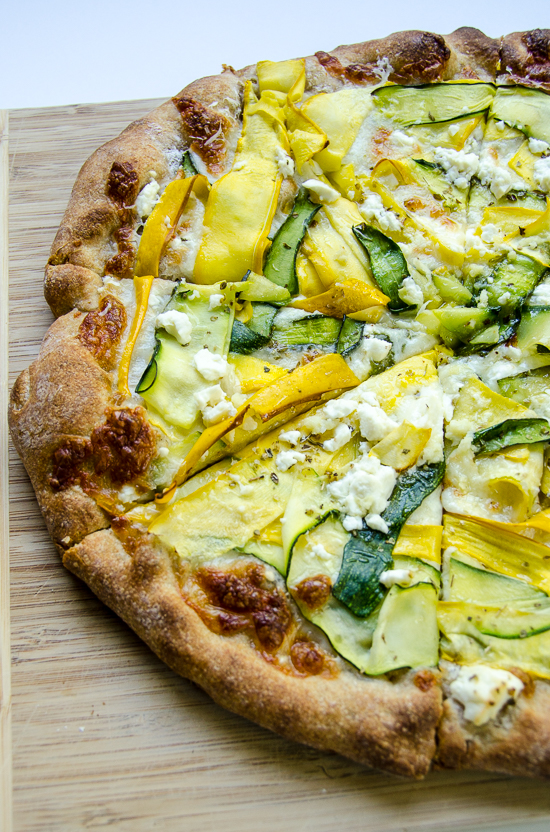 Ingredients
1 ball Trader Joe's Whole Wheat Pizza Dough

2 medium zucchini, a mix of yellow and green is nice for color

olive oil

1.5 cups grated mozzarella cheese

1/2 c. grated pecorino romano

2 oz. feta cheese in brine, crumbled

2 pinches dried oregano

1 large garlic clove, grated on a microplane

kosher salt
Instructions
1
Preheat oven to 500F for 1 hour to heat up the Baking Steel or stone. Take the dough out of the fridge and shape into a round on a floured board, cover with a tea towel and set aside.
2
Trim the stems and bottoms off the zucchini. Using a potato peeler, shave the zucchini into ribbons, just until you reach the seeds on each side of the zucchini. Toss with 2 pinches of kosher salt and let sit for 15 minutes. Pat the zucchini dry with paper towels. Turn the oven up as high as it goes (mine is 555F).
3
Stretch the dough into ~12 inch circle, then put it onto a flour-dusted pizza peel, making sure it slides around easily. Drizzle with olive oil.
4
Layer on the mozzarella cheese and 1/4 c. of pecorino. Arrange the zucchini ribbons in a single layer on the pizza. Top with feta. Sprinkle with oregano.
5
Bake for 8 minutes until the crust is browned and the mozzarella cheese is just beginning to turn golden. Grate the garlic over the pizza and finish baking for 1-2 minutes. Pull it out of the oven and sprinkle with remaining pecorino.