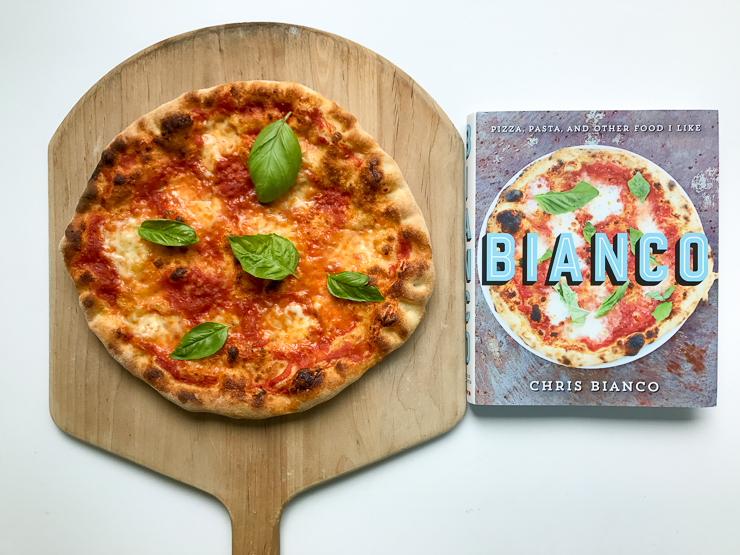 James Beard award winning chef Chris Bianco's new cookbook, BIANCO, demystifies the pizza fundamentals that made him a big papa of artisanal pizza, and delivers simple, straightforward recipes in which the ingredients are as important as the intention.
******************
A few years ago we visited Phoenix for a wedding. Other than the nuptials, Pizzeria Bianco was on my list of must-do's. It had been lauded up, down and sideways by food media as some of the finest pizza anywhere. The lines were notorious, but the day we arrived right at opening, we got a table no problem. The pizza more than lived up to its reputation.  When I got my hands on Chris Bianco's BIANCO: Pizza, Pasta, and Other Food I Like, out today, there was only one place to start.
I'm a pretty proficient pizza maker at home, though there's always more to learn. I rely on the Baking Steel rather than a stone. I return again and again to the dough recipe we like and that works the best in our Pacific Northwest weather. But after having pizza at Pizzeria Bianco, I needed to know the secrets. 
The Secret That is No Secret
Chris Bianco sets the record straight on secrets in BIANCO: "Back in the late 80s, when wood ovens weren't so popular, some people would watch me work and say, 'The wood-fired oven — that's the secret.' The secret that is no secret is even in the most Ferrari of ovens, shit in will be shit out, yet the most humble oven at the proper temperature with all aspects in balance and restrained harmony, will set you free." That's some straight talkin' zen right there.
With that in mind, I set out to make a batch of Bianco pizza dough. There are only four ingredients in this dough, and it's true here and in the rest of the book, get the best ingredients you can. Chefs say it all the time, but here it's a, "No really, I mean it."  There's no hiding with the recipes I've made from Bianco so far. Each ingredient is purposefully chosen and necessary. The quality of the flour and cheese, or the ripeness of a watermelon impacts the final result. 
The BIANCO pizza dough recipe is a same day rise and it's fairly straightforward. I'll usually take some help from a machine, but I followed directions and stood kneading and turning, kneading and turning, until the dough was smooth. After a few hours rise, I returned to press out a pie. The book's directions on shaping are super helpful and include photographs.
The pizza itself bakes up nice and crisp on the Baking Steel. You don't get that droop in the center when you hold up a slice. It's best eaten within moments of it coming out the oven. I used King Arthur bread flour and will continue to experiment with others to see if how much variation there is in the results. The second and third pies I made used dough that sat in the fridge overnight, but even with some cold ferment time, the flavor hadn't developed enough to be markedly different than the margherita made on day one. I still think there's some amount of magic in a Bianco pie. If it's not magic, it's years of experience.
Buy it for the Pizza, Stay for the Salads, Pastas and Desserts
While Chris Bianco is mainly known for his pizza, the James Beard Award-winning chef also owns Pane Bianco and Tratto, a trattoria in Phoenix. Reflecting that repertoire, the book includes salads, sandwiches, a selection of pastas, and some small plates that just call out to be made this summer, like grilled zucchini with a sunny side up egg and mint and fontina cheese skewers wrapped in prosciutto and sprinkled with fresh rosemary before being grilled or broiled. Are you drooling yet?
Heartier mains will take you through the fall and winter, including chicken cacciatore, and for the vegetarians in your life, polpette di ceci, aka chickpea balls. It wraps with a section of sweets including a rhubarb ricotta pudding that I can't believe I have to wait until next spring to make. I'll have to tide myself over with lemon cookies and the intriguing nutmeg ice, maybe together.
BIANCO is a worthy addition to any pizza maker's library, but its value goes well beyond the simple, straightforward recipes. It's the insights into Chris Bianco's intention and attention-driven approach to food and cooking. It's the encouragement in the introduction, "Don't quit. You learn things when you burn things." It's balance and restraint, and stopping when it's enough.
BIANCO: Pizza, Pasta and Other Food I Like is available today. Get it on Amazon, or order a signed copy from Changing Hands bookstore.