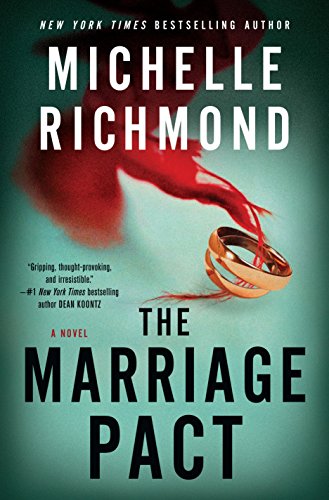 ARC provided by the publisher via NetGalley
5 stars
In The Marriage Pact, a therapist and his musician-turned-lawyer wife find themselves invited to join a secretive, exclusive community dedicated to ensuring a successful marriage that lasts forever. By any means necessary.
Set against a backdrop of San Francisco Bay Area affluence, the Pact's tenets and rules about gift giving and trips and answering your spouse's calls all seem to make sense. As they're drawn deeper into the community, Jake and Alice discover The Pact comes first, and failure to comply is not tolerated. With rules come consequences. In the first pages, Jake wakes up on a plane with a pounding head and a bloodied shirt.
The Marriage Pact is an urgent, twisty, compelling, sometimes terrifying story about what could happen when marriage is transformed from a union between two people into an enforceable social contract among thousands. It's a cautionary tale about the things you're willing to overlook, endure or sacrifice in pursuit of marital bliss.
It might be a stretch for some readers to believe that a lawyer and a therapist would allow themselves to fall into a binding contract without reading it in full, but isn't that the nature of a cult? It dangles something so desirable in front of you that common sense goes out the window. Red flags seem only pinkish and you hardly notice the brass knuckles wrapped in a silk handkerchief until they're punching you in the face.
As things start to spiral out of control, it's interesting to watch Jake's perspective evolve. For all its noble intentions, The Pact plants the seeds of doubt and even Jake finds himself manipulated. Despite everything he knows as a therapist, he's conflicted. As a man, he can't help but appreciate that The Pact's aim is to provide him with the one thing he wants most. Do the ends justify the means?
The Marriage Pact is an absolute page turner, and it's one of my top reads for 2017. Nearly every chapter ends on a punctuating note that keeps you reading way past your bedtime. Richmond's descriptions of the tony world of The Pact are even more vivid if you've ever lived in the Bay Area. As a former Peninsula resident, I laughed out loud at the descriptions of Hillsborough and Woodside. The ending could have gone a couple of ways and I won't be surprised if the film version (it's already been optioned) goes the other route.
When it comes to psychological suspense, in the long line of successors to Gone Girl, the Marriage Pact is one you have to read.
Author Michelle Richmond will be doing a book tour in support of the book with stops up and down the Bay, beginning July 25. For dates and locations, visit MichelleRichmond.com.
The Marriage Pact is out on Tuesday, July 25. Pre-order on Amazon.