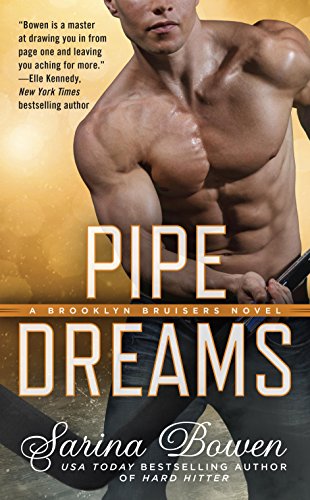 **ARC provided via NetGalley in exchange for an honest review**
Pipe Dreams weaves hockey with heartbreak and hope, but can it deliver the hat-trick with a happily ever after?
Let me say upfront that I don't usually go for the single dad, second chance at love trope. But damn it, Sarina Bowen did it again, she made me love this story anyway! She's got a knack for developing relatable, true-to-life characters who deal with real-world problems. 
Mike Beacon is a stand-up guy balancing being on the road with the Brooklyn Bruisers and being a single dad to a teenage daughter (god, help him). He's handling things with refreshing maturity and doing his best raising his daughter. He botched it once with Lauren and is determined to win her back. Beacon is charming as all get out, but he's not relying on his good looks and charm to get this one done. This dude is actually emotionally intelligent. He wants to talk it out, admit his mistakes. He's the second hero I've read like this in the last month, the other being Max Riley in Mister Romance. Please, please let this be the beginning of a trend.
Lauren, on the other hand, has a chip on her shoulder the size of a zamboni. We first meet her earlier in the series and I've been dying to know what made her such a piece of work. From the first pages of Pipe Dreams her annoyance with the team, the win, with everyone, is on simmer. And it's not gonna take much for her to boil over.
Lauren worked for the Bruisers before Nate Kattenberg bought the team and moved her over to his corporate operation. In Pipe Dreams, she gets pulled back in to helping out the team during the playoffs, which means dealing with Beacon. We finally get the lowdown on why she's so bitter and angry. Ohhh, and when you find out the reason, it's an eyebrow-raising whoa moment. "It's complicated" doesn't even begin to describe it. You run the gamut of emotions right along with Lauren — shocked, hurt, angry, bitter, conflicted.
So let's get to the good stuff:
Yay for confident single women! I love to read a character who went through a bad breakup, see her get on her feet and put her own priorities first: getting her degree, focusing on her career and looking at having a baby on her own. (See, real!!) So when Lauren folds like a house of cards, it's a little disappointing. In a flash, bitter, angry Lauren is gone. Lauren, what happened to you? So much for benefitting from being a confident single person.
Even still, I can't be mad at it because of the way everything finally gets aired out (more realness!). It's the emotional rollercoaster you might go through in real life. I'd just be the friend in the stands going, "This is crazy, but if it's the right thing for you, what can I say?"
Yay for friendship and women bonding! Although in the past Lauren was barely civil to the women in the Bruisers organization, we get some surprising bonding among Lauren and Georgia, who runs Bruisers PR; Becca, who runs the office; and Ari, who handles the team's physio. These women aren't in competition mode and I liked seeing them support each other. There's no girl $h!t here, they're adults. (Double yay).
In the keeping it real column, there's also some tense, interaction between Lauren and Beacon's daughter Elsa, too. She's a teenager who lost her mom and now her dad is spending a lot of time with Lauren. You can imagine how that goes over.
Yay for the next book! I hope? Although you can read Pipe Dreams (and the rest of the series for that matter) as standalones, we are well set up for the Nate and Becca chronicles. That can happen, right? Bring. It. On.
Sarina Bowen's got another winner in the Brooklyn Bruisers series: it's got heart, heat and hope. Most readers will find something to relate to, and it'll even win over those of us who don't usually go for the single dad, second chance at love trope.
Get Pipe Dreams on Amazon.