**ARC provided by publisher via NetGalley**
Vibrant India melds tradition with the modern, capturing and adapting South Indian dishes for the home cook, whether you grew up eating Indian food, or it's all new.  The book suggests vegetable variations for dishes that reflect what's available in the grocery store and farmers markets, while also giving advice that'll help shoppers new to Indian grocers. 4 stars
*********************
My husband Ondraus and I were almost regulars at a little Indian place on the second floor of a strip mall in Santa Monica. We didn't go for the weekday lunch buffet with the butter chicken and other Northern Indian dishes you might expect. At All India Cafe, it was about the masala dosa, a giant, crispy rolled crepe filled with spiced potatoes and peas. You'd tear off the end of the dosa for a first bite and dip it into a mint and cilantro chutney. The potato curry came in the second and third bites. It was a dish reserved for the restaurant: our one attempt at making the dosa at home was a flame out — the mid '90s recipe from a book I otherwise love, called for rice flour and farina, aka Cream of Wheat. Needless to say, it just didn't come out anything like the real thing. I didn't try making dosa again until I got my hands on Chitra Agrawal's ode to her family's South Indian cooking, Vibrant India, out today from Ten Speed Press.
The rice and lentil crepe dosa is the very first recipe in the book. It was a sign.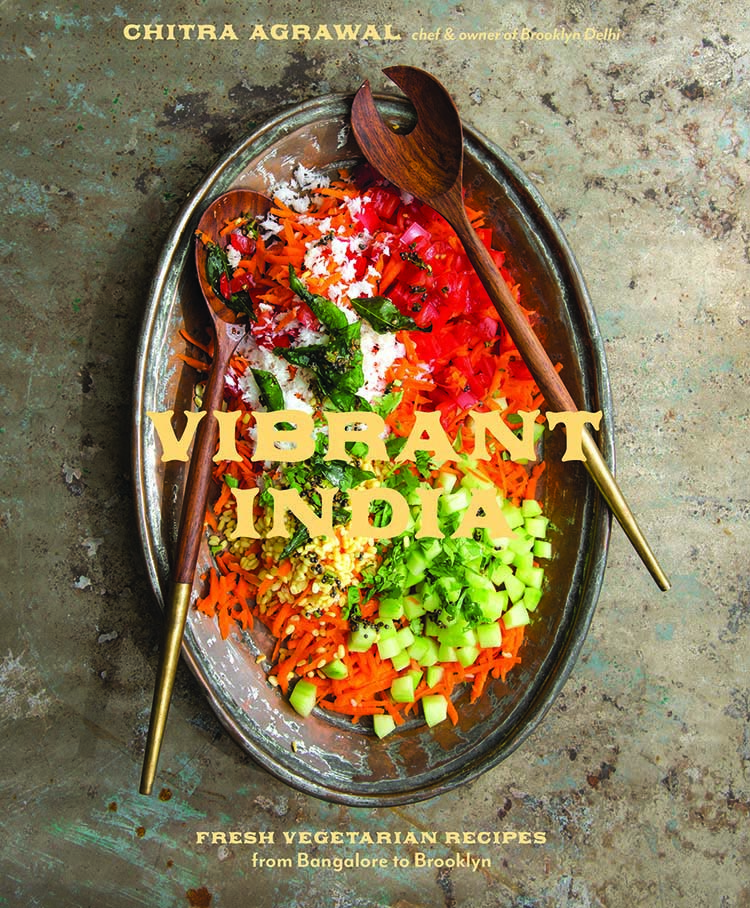 Vibrant India offers a full range of South Indian vegetarian dishes including salads and yogurts, soups and stews, vegetable stir-fries, rice and breads, and the chutneys and pickles that go with. What's the difference between North and South Indian cuisine? The broad strokes, according to Vibrant India, are that South Indian cuisine relies on lentils and rice and features fresh coconut and curry leaves. In contrast, North India cooking features the naan, samosas and curries often featured in restaurants in the US.
One of the things that made the book really resonate with me is that it's chock full of adaptations. In bringing recipes from Bangalore to Brooklyn some recipes are adapted for available produce, but more importantly, the adaptations don't compromise the dishes, they reflect how Indian-Americans eat and interpret recipes for the place. In a Japanese-American home, we might swap in a regular cabbage in place of nappa, or sprinkle furikake (seaweed-sesame sprinkle) on popcorn and Chex mix. Vibrant India offers a pickled cranberry version of a condiment usually made with gooseberries or mango, curried popcorn and cardamom oatmeal cookies with dark chocolate and golden raisins. It's both traditional and modern.
Armed with the knowledge that many of the recipes in the book rely on the combination of black mustard seeds, asafetida, dried red chiles and curry leaves, I headed to a local Indian market, only to bump into a sign in the teeny produce section that said, "Sorry, no curry leaves." (I ended up getting them at Uwajimaya, the large Asian market in the area). So yes, depending on where you live, finding the ingredients may take a little bit of extra effort. But it's well worth it.  If you've ever wondered why you just can't replicate your favorite restaurant dishes with what your mega mart offers, cutting corners on ingredients is ONE of the reasons. 
Take the opportunity to explore, the book gives the guidance on ingredients and some brands. It's simply on you to read and use that section. I know I've certainly been guilty of skipping right over the front bit to get into the recipes. The book also includes links for finding Indian grocers in your area and online resources for ingredients.
I wasn't crazy enough to make the dosa the very first recipe I attempted from the book. I started with the stir-fried potato curry filling, then the stir-fried cabbage with lemon and coconut. You could easily put those both on the table on any weeknight. Already I've bookmarked several recipes, including Pineapple and Peppers in Red Coconut Curry(!), to try as ingredients come into season. I was tempted to make the gorgeous salad on the cover, but I'll wait until closer to summer when the ingredients are really at their best.
As to the dosa itself. That wasn't all fun and games. It took a few tries over the better part of a week to get the consistency and cooking right. In the end, I thinned the batter, more like a French crepe and used a copper skillet rather than the cast iron. I also resorted to swirling the batter in the pan rather than using the back of a spoon. I just couldn't get the temperature right to spread the batter thinly enough. I'll keep practicing, but it was a vast improvement over our first try at it years ago.  Ondraus deemed it legit in flavor and execution. 
Vibrant India is well worth a place on your bookshelf. If the book isn't enough, get more from Chitra Agrawal on her blog, ABCDs of Cooking.
Get the book: