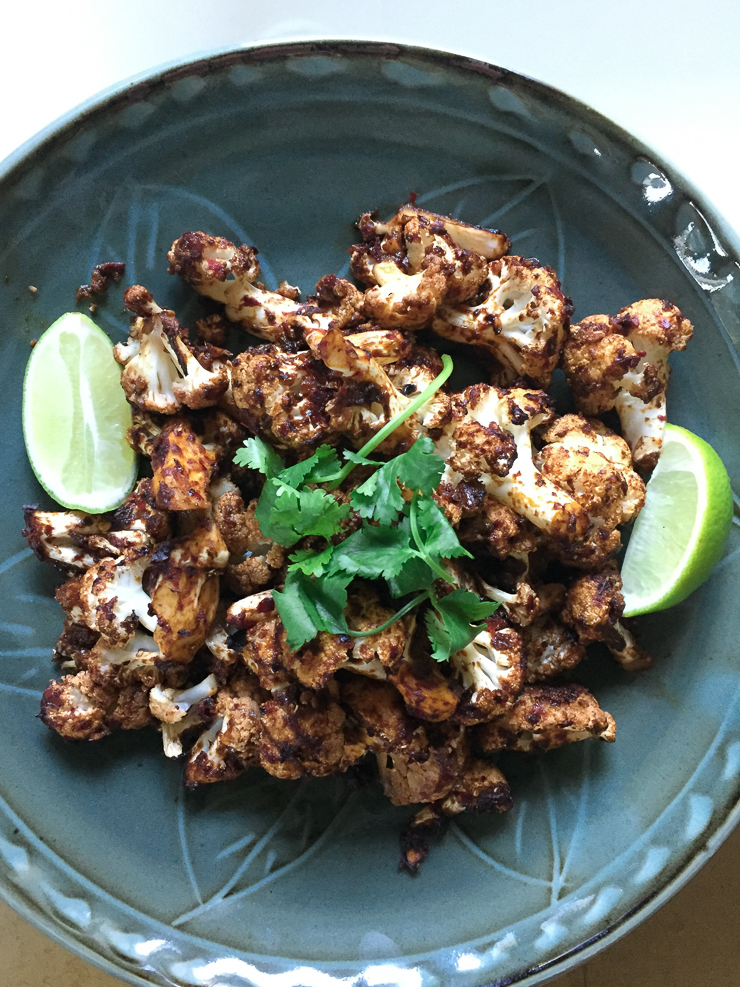 The spice profile in Mexican chorizo makes it a love-it or hate-it proposition. While I love the the zing of vinegar with chiles, paprika, cinnamon and cumin, my husband would just as soon not. You can mix the chile paste mixture into ground pork or turkey, and as I discovered last week, you can (and you should) even slather it on cauliflower. This chorizo-spiced roasted cauliflower is an easy little side dish to serve alongside whatever Mexican food you've got going. Using riced cauliflower, it'd also make a great filling for some vegetarian tacos.
The recipe is barely adapted from Lisa Fain's Homesick Texan cookbook. It's a book I come back to again and again – for the dead simple carnitas, the green chile rice, the Texas chili, and the Mexican red chorizo. This time, I've just added olive oil to the chile paste mixture to keep the cauliflower from sticking and burning. Enjoy.
Ingredients
1 medium head cauliflower, rinsed, cored and broken into small florets

2 guajillo chiles, stemmed and seeded

2 pasilla chiles, stemmed and seeded

1/4 medium onion, chopped

2 cloves garlic, chopped

2 T. apple cider vinegar

1/4 t. ground cinnamon

1/2 t. ground cumin

1/2 t. ground sweet paprika

1/2 t. dried oregano

1/4 t. cayenne

1 t. kosher salt

2 T. olive oil

1-2 T. water, as needed

half a lime
Instructions
2
Toast the chiles in a hot cast iron skillet for ~30 seconds per side. Turn off the heat and pour ~4 c. hot water over the chiles to cover. Let the chiles soak for ~30 mins until softened. Drain the chiles.
3
Combine chiles, onion, garlic in a food processor* and pulse a few times to begin breaking down the chiles. Add the vinegar, spices and olive oil and puree until smooth. If the mixture is too thick, add a tablespoon or two of water as needed to thin it to the consistency of ketchup.
4
Toss the cauliflower with the chile mixture in a large bowl until evenly coated. Arrange the cauliflower in a single layer on a baking sheet. Bake for 20-25 minutes, turning over the cauliflower about half way through. When done, you should be able to pass a knife through the cauliflower easily.
5
Drizzle with fresh lime juice while still hot.
Notes
*Use a food processor rather than a blender to make the chile paste. The number of chiles is so small that there's not quite enough volume to get it pureed well in a blender without adding excess water into the mix.