It's not often I get to say, one of the main characters is a delusional, megalomaniac sh-tstain and you should really read this book.  But that's the deal with Too Late by C. Hoover. Fair warning, this is not Colleen Hoover's usual MO.  This book is dark and graphic — drugs, mental illness, abuse, murder and rape are at the center of the story. None of it is casual. It's a reminder that predators come from all walks of life, all too ready to take advantage — whether of someone's naivetè, or their innate desire to be loved and valued, or to take back the power someone else stole from them.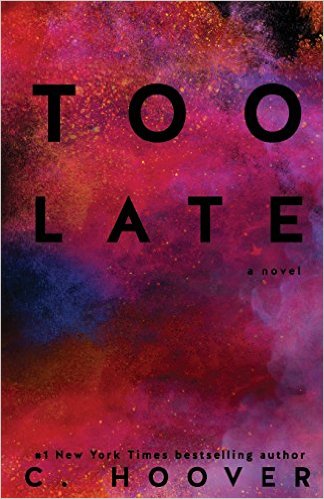 Asa Jackson is a college drug dealer (why are dudes named Asa always bad guys?), his girlfriend Sloan lives with him, and Carter is an undercover cop trying to infiltrate the drug ring. And if it was just about the drugs, this might be an eyeroll. What's going on here is so much more complex: Asa is an abusive controlling boyfriend who suffered abuse and neglect at the hands of his parents; Sloan is in a desperate financial and family situation with nowhere else to turn; and Carter, who may be the worst undercover cop of all time, falls for his mark.
Amazon classifies Too Late as romantic suspense, but this is no romance novel. There's plenty of sex, but it's not romance. At times, the story is disturbingly graphic and it should be. It's not done for shock value. It makes a point, again and again, unflinchingly.  And it doesn't let go.
The main action of the story initially ends at 74%. What? That's only 3/4 of the way through. It's then followed by a prologue and an epilogue to the epilogue. Sloan and Luke can run, but they can't hide.
It took me until the Epilogue to the Epilogue (yes, a bit odd structurally) to fully grasp why this story was so important, why Colleen Hoover might want to write it and why you shouldn't look away, even if the subjects are difficult.
As Asa put it, "There was a case on the news recently about some dude who raped a girl. He got a few months in jail because he was white, or because he won some medals, or some shit combination like that."
Brock Turner, the Stanford rapist. If you need to re-read it, here's <a href="http://www.nytimes.com/interactive/2016/06/08/us/stanford-rape-victim-statement.html">his victim's impact statement.</a>
Hoover took on a tough, but important topic in It Ends with Us, and has taken on another on in Too Late. The book may not be perfect, but bringing uncomfortable subjects to light and giving them a name is what matters here.
Rating: 3.5 stars