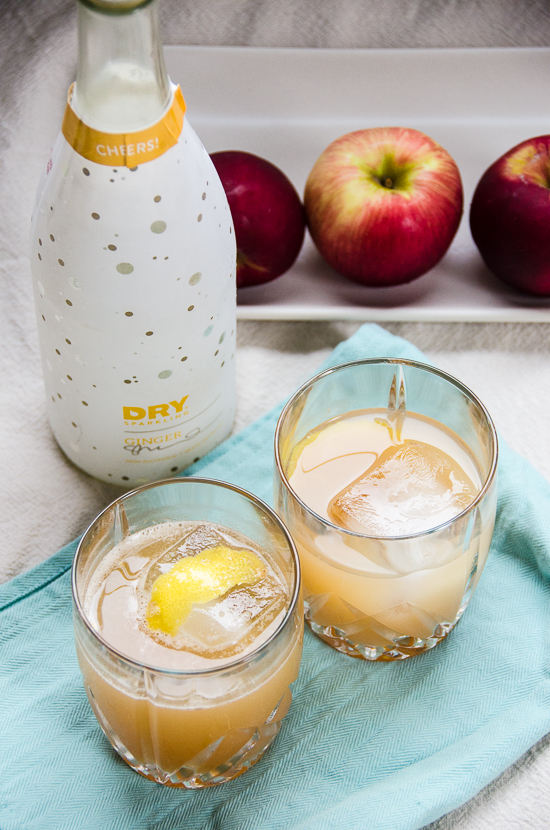 Sometimes a cocktail is born of what you have around. Last Sunday as we were settling in to an afternoon of football, I realized we were low on vodka, which put a damper on our Moscow Mule plans. I'm constantly looking for ways to learn to enjoy bourbon and this maple cider cocktail might just be the gateway. You get the smoky, wood tones of the bourbon, while cider tames the edge of the alcohol. It's the perfect sipper for a chilly late autumn afternoon.
The folks at Dry Sparkling were kind enough to share their limited edition holiday cranberry and ginger sodas, and this cocktail gets its fizz from the ginger.  You can also do a mocktail version sans bourbon and call it a maple cider ginger sparkler.
Happy weekend!
The A-/B+: Maple Cider Bourbon Smash with Dry Sparkling Ginger
Print Recipe
Ingredients
3 oz. Honeycrisp apple cider

1 1/2 oz. bourbon (I used Maker's Mark)

1/2 oz. fresh squeezed lemon juice

1/2 oz. Grade B maple syrup

2 dashes Fee Brothers' bitters

2 oz. Dry Sparkling ginger soda

lemon rind for garnish

Ice
Instructions
1
Combine apple cider, bourbon, lemon juice, maple syrup and bitters over ice in a cocktail shaker. Shake vigorously for 30 seconds. Strain into a rocks glass over ice. Top with Dry Sparkling ginger and garnish with a strip of lemon rind.
2
To make the cocktail (nearly) non-alcoholic, increase apple cider and Dry Sparkling ginger to 4 oz. each and omit the bourbon. Bitters does have alcohol in it, so keep this in mind for your guests who need to avoid alcohol completely.
Notes
Adapted from Chef Thomas Joseph's recipe on Martha Stewart.com, this cocktail takes a good thing and makes it even better with a drizzle of maple syrup and ginger soda in the mix.