Summer may be winding down, but grilling season is far from over. I've been obsessed with burgers and really, anything on a bun lately. While nothing beats a classic beef hamburger, my a-ha this year is that chicken thighs actually make a better burger than turkey.  And if you're willing to go an extra step, grind your own. It's worth it.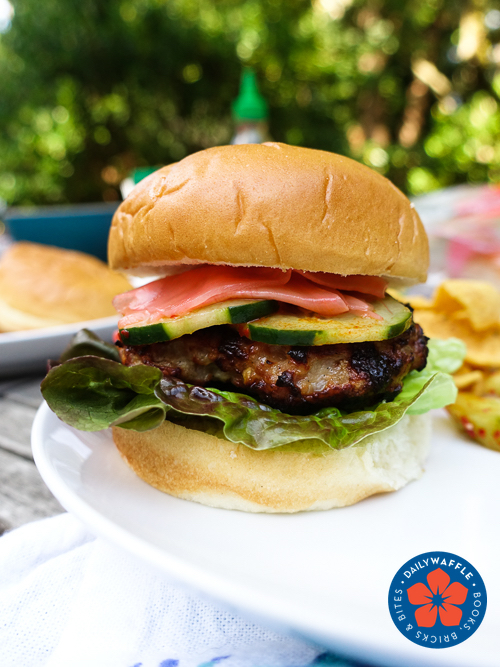 The flavors here are classic Japanese, or at least what I think of as classic, but the one you might not expect is miso paste. It's totally key here, bringing a salty umami-ness to the mix. Without it, this is just a ginger/garlic burger. Big whoop.  And if you're on the fence, because, what else am I gonna do with a container of miso paste? It's delicious in salad dressing and takes peanut butter cookies in an entirely new direction.
What's going on with the toppings?  Sweet pickled ginger and marinated cucumbers. It used to be that you might only see those pink slices in your supermarket sushi, but they've become so mainstream, regular grocery stores carry it on the Asian foods aisle or in the refrigerated section with tofu. As for the cucumbers, they're are not Japanese so much as Korean. The gochugaru is pleasantly spicy without being hot and adds nice color to the cukes.
Ingredients
1.5 lbs. chicken thighs, trimmed and ground

1 T. minced ginger

1 T. minced garlic

2 green onions, white and green onions, sliced thinly on the bias

2 T. white miso paste

1 T. potato starch

canola oil

King's Hawaiian hamburger buns (the smaller ~2.5 inch size, 8 to a package)

Suggested toppings:

Sweet pickled ginger

Red leaf or romaine lettuce

Cucumber salad

Sriracha

Cucumber Salad

1 large English cucumber, peeled at intervals and sliced into thin disks

1 T. gochugaru (Korean red pepper flakes)

1 T. seasoned rice vinegar

2 t. sesame oil

1/4 t. kosher salt (optional)
Instructions
1
Line a quarter sheet pan or plate with waxed paper and set aside.
2
In a medium bowl, combine ground chicken, ginger, garlic, green onions, miso paste and potato starch. Divide the chicken mixture into 6 even parts. The mixture may be sticky, wet your hands as needed to easily handle the meat. Form into patties and arrange on the sheet pan or plate.
3
Freeze the patties for 3-5 minutes to firm them up. Before grilling, brush each patty with canola oil and place oil-side down on the grill. Brush the second side with oil.
4
Grill over high heat for 3-4 minutes per side. The internal temperature of the patties should be (at least) 165F.
5
To prepare the cucumber salad, peel it in a few long strips (you want a few strips of the skin still showing for color) and remove the ends. Slice into thin disks. I usually do about half the cucumber for topping the burgers and cut the remaining half in chunks for salad. In a medium bowl, stir together cucumber, gochugaru, vinegar, sesame oil and salt. Let sit for 10-15 minutes to let the flavors meld.