Pure Food: A Chef's Handbook for Eating Clean, with Healthy, Delicious Recipes by Kurt Beecher Dammeier
    — 3 and 1/2 stars
**ARC provided by the publisher for review**
Effort to get Americans cooking and eating clean gets a bump this week with the release of Kurt Beecher Dammeier's latest cookbook, Pure Food.
The campaign to get Americans to eat less processed food doesn't start and end with one man. Aiming to educate and inspire, chef and restaurateur Kurt Beecher Dammeier's latest cookbook, Pure Food, is moving the ball forward with a building block approach focused on flavor.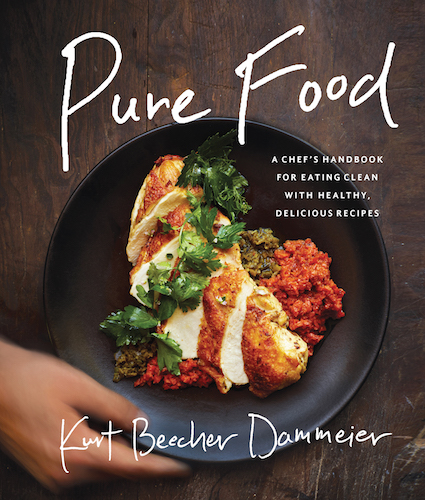 If the name Beecher is familiar, the cheese shop's Mac and Cheese was one of Oprah's Favorite Things in 2010 and there are Beecher's Handmade Cheese locations in both Seattle's Pike Place Market and NYC's Flatiron District. As you might suspect, Beecher's Cheese figures into several recipes. (Alternatives are recommended if Beecher's isn't available in your area.)
Part handbook, part cookbook, the recipes are sectioned by a primary protein – beef, turkey, lamb, etc. — that can then be used in multiple recipes, maximizing the time invested. Condiments, vegetables, grains and a brief dessert chapter round out the book.
Inspired by his personal experience eliminating processed foods and additives from his diet, Dammeier's definition of "Pure Food" is almost literal. The book includes recipes like chicken stock, roasted vegetables and even sriracha. For some cooks, that's going to be far too basic and for others too much work, but it's addressing the needs of the broadest possible audience.
Ultimately, it's up to you how literal you want, or can be, in adhering to the "pure food" mantra.  I'm in favor of eating clean, but I've got Heinz ketchup and barbecue sauce and boxed chicken broth in my cupboard. If this book at least reminds you to read labels and think about what's in what you're eating, that's a step forward. And, we'll be coming into chile season in a month, so why not try making your own sriracha? I haven't done it either, but I'll give it a go this summer.
Let's get to the cooking.
The big winner in my cooking from the book so far is the Maximus/Minimus chicken thighs. You'll be grilling them all summer. They're a great example of how pure food doesn't have to be time consuming or complicated.
It's a fast marinade, so it's a perfect weeknight dinner, or if you've got guests showing up last minute for a barbecue. On the Maximus/Minimus truck, I think it's usually served with a chipotle mayo, but since I've got non-mayo eaters around here, we threw a couple of nectarines on the grill and served the chicken sandwiches with a nectarine salsa with a little red onion, brown sugar and some minced jalapeño. Seriously delicious.
Farro cakes with bacon and parsley also caught my eye. They're delicious salad-style with some arugula and cherry tomatoes and make a great breakfast a couple of days later with a sunny side up egg over the top.
You're building flavor from the ground up with bacon, Beecher's Flagship cheese, the Butcher's Table Seasoning and pickled red onion (both of which are in the condiments chapter).  Just be sure to check the cooking time on your particular brand of farro. The book calls for 25-30 minutes, but the one I used recommended nearly double that. Your mileage may vary.
On the seasoning, take advantage of your market's bulk spice section to keep it from breaking the bank. Even lapsang souchong tea was available in bulk at my local PCC Natural Market.
Pure Food is available now. Kurt Beecher Dammeier will be doing a book signing at Costco in Issaquah, WA on July 16 and will be doing a class and book signing at Hot Stove Society in Seattle on July 19.
Maximus/Minimum Chicken Thighs
Recipe Type
:
Main Dish, Entree, Sandwich
Author:
Chicken thighs are naturally richer and more flavorful than chicken breasts, and their higher fat content makes them more forgiving and less likely to dry out under high-heat grilling. We serve these chicken thighs as a sandwich on a burger bun at Maximus/Minimus, my food truck in Seattle. Even though the truck is shaped like a pig and a pulled pork sandwich is the headliner, this sandwich is my go-to order. If you have the time, mix the marinade together and set it aside for half an hour to allow the cumin and fennel seeds to soften before adding the chicken. Because the marinade includes lime juice, do not leave the raw chicken in it for longer than specified in step 2 or the acidity will break down the proteins in the meat and make the chicken mushy and mealy.
Ingredients
¾ cup lime juice
½ cup (plus 2 tablespoons, if using stove-top cooking method) expeller-pressed safflower oil
2 teaspoons granulated garlic
2 tablespoons dried oregano
2 tablespoons kosher salt
4 teaspoons chili powder
2 teaspoons black pepper
1 teaspoon cumin seed
½ teaspoon fennel seed
5 pounds boneless, skinless chicken thighs
Instructions
To make the marinade, in a large bowl, whisk together the lime juice, ½ cup oil, garlic, and spices. Add the chicken and toss to coat evenly. Set aside at room temperature for 30 minutes.
To grill, turn all burners to high, cover, and heat the grill until hot, about 15 minutes. Clean and oil the cooking grate. Place the chicken on the grill, smooth side down, and cook until the chicken is charred in spots on the first side, about 5 minutes. Flip the chicken and cook until browned on the second side and the chicken is tender and no longer pink, about 5 minutes. Transfer the chicken to a plate and let rest for 5 minutes before serving.
To cook on the stove top, heat 2 tablespoons expeller-pressed safflower oil in a large skillet over high heat until smoking, 2 to 3 minutes. Add the chicken thighs, smooth side down, and cook without moving until the bottom side is well charred, about 4 minutes. Flip the chicken, reduce the heat to low, and cook until the chicken is tender and no longer pink, about 10 minutes.